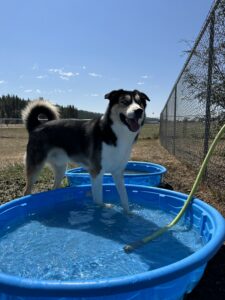 Atlas has had a tough time here at SHS, he hasn't been adopted once or twice but four times. This isn't because he is a bad dog, but because he hasn't found the right family that truly understands him and his unique quirks. He is a German Shepherd Husky Mix, so he has lots of energy. Also, he gets bored easily which leads him to chew up blankets and bedding; he loves being outside with room to stretch his legs!
WHAT SHS STAFF MEMBERS AND PAST OWNERS SAY ABOUT ATLAS:
He was a great dog but too energetic, we couldn't give him the attention he needs. – Past Owner
Atlas might have separation anxiety; he would act out when he was left alone. – Past Owner
Atlas loves his toys but gets protective when someone tries to take them away from him.
He is active, intelligent, loyal, and so loving.
THE TYPE OF HOME ATLAS IS LOOKING FOR:
Adult-only home with no other animals since Atlas resources guards his food and toys.
Atlas would thrive in a household where there is a stay at home or work from home adult so he can get lots of love throughout the day.
Atlas needs a backyard to run around in and different ways to get his energy out, he wouldn't do well in an apartment.
Atlas is a great pup who is ready to find his dedicated forever family.
Read more about Atlas HERE.