It's an unusual arrangement, but when Bark, A Rescue Pub owners Josh and Katie approached SHS a year ago, about making their restaurant an adoption site, we said yes! Little did we know that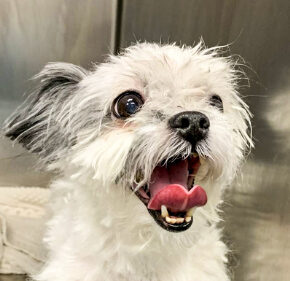 less than a year later, the 500th adoption would walk out their doors.
The lucky 500th is Bug, a 10-year-old Maltese/shih tzu cross. Sweet Bug was surrendered to SHS due to his owner's illness and his charming personality ensured that he spent only one day up for adoption before he went to his new home.
Bark will celebrate it's one year anniversary on Saturday, August 7 from 10 AM – 2 PM. The New Hope Express will be there, along with NW Scoop N Go Ice cream, Fetch Barkery and Yuppy Puppy. We hope you'll stop by to join in the celebration and to thank Bark for all they have done to help save 500 animals – and counting!