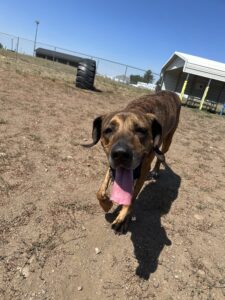 Artimis was first introduced to SHS back in 2021; this 4-year-old Hound mix has been in and out of the shelter ever since. SHS is hoping she will find a forever home that understands her quirks and loves her for who she is!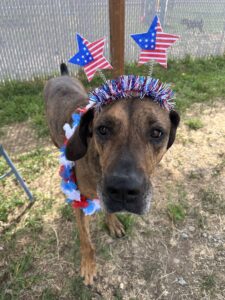 What SHS staff members and past owners say about Artimis:
Artimis loves her human family and will stick by your side no matter what!
This sweetheart loves playing in water, especially in the summer heat.
She is so calm; we dress her up for holidays and she doesn't really mind.
Artimis does well on a leash and really enjoys running around outside. No apartments for this girl, she needs room to stretch her legs!
A past owner stated Artimis is territorial and fears strangers, which makes it challenging to walk her in public areas.
She truly is a happy-go-lucky dog.
A past owner says Artimis has an intense prey drive, since she has gone after cats, squirrels, and deer.
The type of home Artimis is looking for:
An adult-only home is preferred for Artimis. Young kids are a firm no, while pre-teen and older might be okay after a few meets and greets.
No chickens for this lady since she thinks they are a yummy snack!
Artimis is very dog selective, so she requires a few meet and greets with other resident animals before adoption.
This girl loves her people, she will want to play with you outside and go on walks together. If left alone outside for too long, Artimis gets bored and will try to get your attention by barking. SHS would love to see her go home with an outdoorsy or athletic family that can match her energy!
Artimis is one of a kind and unique in her own ways. She requires a very specific forever home, but once she finds her people, she will be loyal and loving forever! The best way to get to know Artimis is coming to our shelter location at 6607 N Havana and taking her on a walk or into a play yard for some bonding time.
Read more about Artimis HERE.