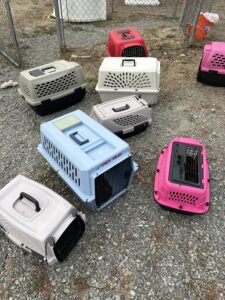 On the morning of August 7, 2023, SHS staff members found 17 cats abandoned onsite at our shelter location. There were 8 kittens and 9 young adult cats left in the gated play yard next to the road. However, some of the cats got out, one was up a tree, and one was in the outdoor dog kennels. Our morning staff went above and beyond, catching all of the cats before SCRAPS arrived onsite. The 17 cats were sweet but scared, most of them were easy to pick up and put in a cat carrier.
Shelter and clinic staff, dog walkers, volunteers, and some administrative members helped secure all the cats and carry them into the shelter. When SCRAPS arrived, they assisted by weighing each cat, scanning for a microchip, determining gender, and doing a quick medical check.
Our shelter manager wanted to keep, and care for all of the cats but didn't have enough space in the shelter. Most of the kittens went to SCRAPS since they usually get adopted quicker than adult cats.
The cats that stayed at SHS will be medically cleared by our clinic veterinarians before going up for adoption. Their medical checkup will include vaccinations, spay/neuter, and more.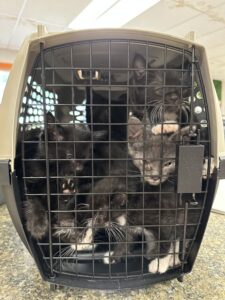 It is important to surrender your animals at the front desk of SHS rather than abandoning them onsite. This way we can get information about your animals for future potential adopters, as well as access them for behavior and medical information. Since Spokane Humane Society is a no-kill nonprofit shelter, we can only intake so many animals… if we take in more than we can support, we face many challenges and difficult decisions. Though we might not be able to intake your pets, we will do our best to support you by providing information on other resources and shelters in the area.
We are thankful that none of the cats found their way into a kennel with a cat-aggressive dog or through the gated play yard and onto the road. Thank you to our staff and volunteers that helped through this situation and to our partnership with SCRAPS, thank you for always being there for SHS.
If you are interested in adopting one of these sweet loving cuddle-bugs, please continue checking our website HERE.