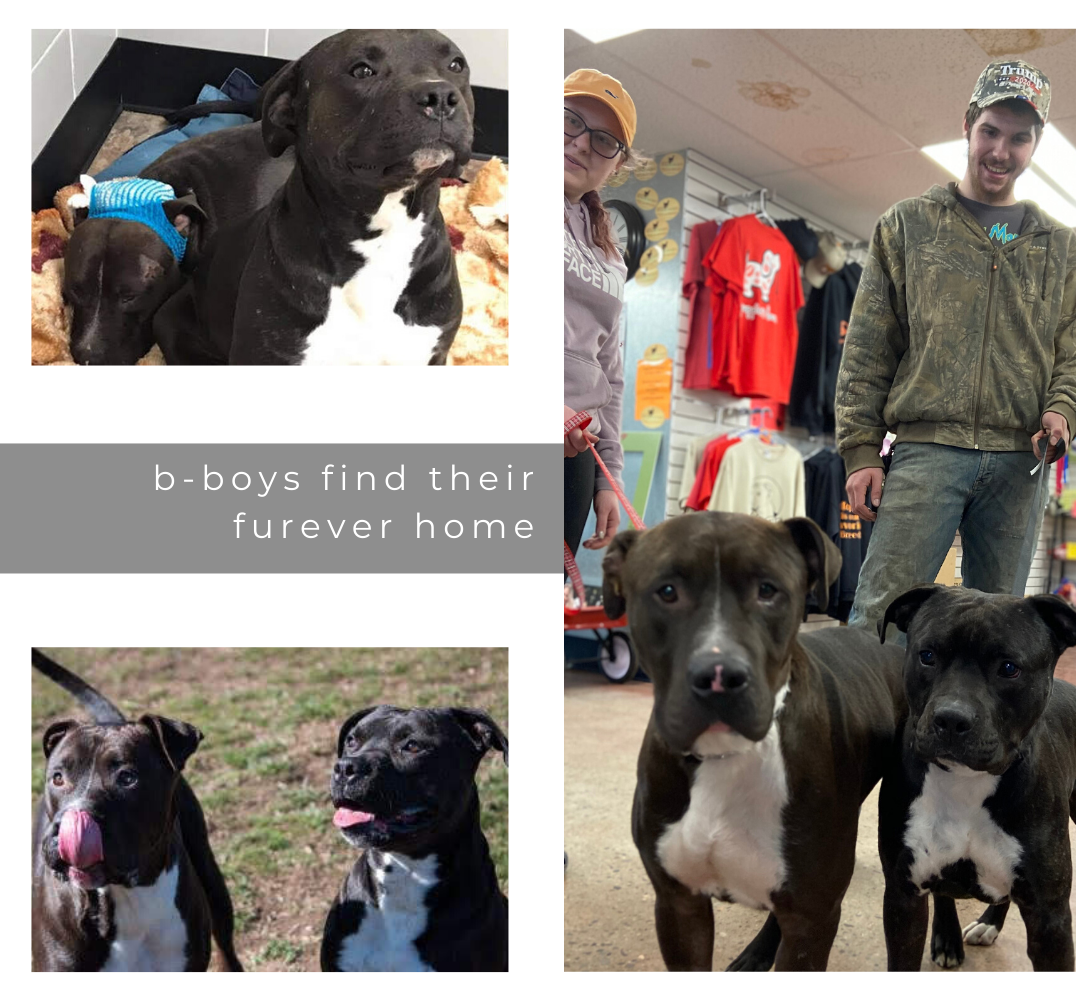 **UPDATE**
As of Mar 27th, we are happy to report that Bear and Bones found their furever home and are on their way to living their best life!
Bear and Bones were surrendered by their owner to an animal shelter in central Texas. The owner was over his limit of 2 dogs where he was living (he had 4), so he chose to surrender Bear and Bones together. The Texas shelter they were surrendered to is a kill shelter; meaning that after a specific amount of time, usually a week, if they are not adopted, they are euthanized.  Hot-Paws, a nonprofit organization, pays for transports to pluck dogs on shelter euthanasia lists and drive them in special transport vans to partner shelters like Spokane Humane Society, and chose Furever Dog United Inc to make the trip.
Bear and Bones were fortunate enough to get put on this transport to Spokane. On Feb 22, the transport of 30 dogs stopped for a potty break in Layton, Utah. Unfortunately, Bear broke free from the handler and while on the run, was hit by a car. Coincidentally, he was hit right out front of an animal clinic and Layton Police and citizens rushed him into the clinic to see if they knew him, while the transport staff were out desperately searching for him. Since his ownership was in question, the clinic deemed him a stray and life saving measures were able to start immediately. The transporters found out he was at the clinic and raced to check on him. Bear had a small bleed in his abdomen, a pin sized hole in his lung, had two of his canine teeth broken off, and had bitten his tongue. He also sustained severe road rash, but no broken bones. Bear was mildly sedated, but wouldn't wake, flinch or respond anything. The transporters informed the clinic staff that Bear was bonded with another dog on the transport named Bones, who is most likely his father. They brought Bones to Bear, who still was unresponsive. Bones proceeded to cry and whine for his son. Bear heard him and slowly started to wake up! It was obvious to everyone that they were best friends and so happy to be reunited. Bones knew that Bear needed him. Bear was stabilized and the transporters and Spokane Humane Society decided the dogs would stay on the transport and Bones and Bear would make the remainder of the trip to Spokane together. Everyone knew these boys could not be separated.
Bear and Bones arrived safely at the Spokane Humane Society and spent time in their own cozy room where they slept right next to each other, sometimes Bones could be found with his head resting on Bear. As soon as Bear was all healed up, they were moved to the adoption center as a bonded pair and are awaiting their furever home, together.
Spokane Humane Society accepts approx. 70 dogs a month from kill shelters in the south from about 5 different transport agencies, with 886 in 2019 alone. These are highly adoptable dogs that come to us healthy and happy to be saved and given a second chance at life. They are grateful, precious dogs who deserve to live.