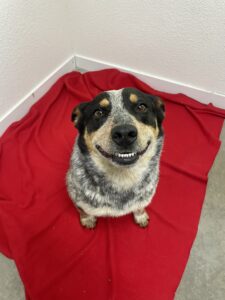 Billie came to SHS with two of his fur siblings when their previous owners were moving and could no longer care for them. He is a 4-year-old heeler who is friendly and sweet!
"He [Billie] is a very nice dog, and you should have no problem rehoming him!" -VCA North Division Animal Medical Center
Prior to intake, SHS clinic staff did a medical evaluation on Billie as he was non-weight bearing on his right hindlimb. Upon this evaluation, including radiographs, it was determined that Billie had a poorly healed severe femoral neck fracture and signs of osteoarthritis. This initial injury was from an accident about a year ago. The injury tried to heal itself which caused chronic pain and mechanical shortening of his limb.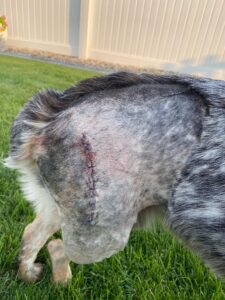 Because of this, it was determined that he would need surgery and to be placed in a loving foster home where he could recover and heal. He underwent surgery (femoral head ostectomy) at an SHS partner clinic, VCA Animal Hospital. The goal of the surgery was to remove the femoral head and park of the neck, which would provide a smooth surface with a soft tissue interface between the femur and hip. After a successful surgery, he started physical therapy at Pawlouse Veterinary Therapy.
However, due to the severity of his injury, he will potentially need an additional surgery.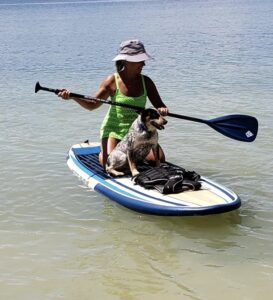 These surgeries are expensive but necessary for Billie to improve and heal, so that one day soon he can go up for adoption! SHS Special Treatment and Recovery (STAR) allows us to provide life-saving medical care to abused, neglected, and sick shelter animals. We believe all animals deserve love and care and the STAR Fund allows us to help those animals in need. Please consider donating on our website under the tab "donate" and "STAR Fund" or HERE for Billie and animals like Billie who need life-saving surgeries.
Though Billie has been struggling, his foster family has been giving him lots of love and support. Billie has been out paddleboarding with his foster mom and playing with his dog foster siblings. In their free time, Billie's foster family brings him by the shelter for extra love and cuddles from the staff. Here at SHS, we treat the shelter animals like they are our own: we love them, we care for them, and no matter what, we will never stop advocating for them. Now, let's raise some Bucks for Billie!
We appreciate your gift of any size. By donating to our STAR Fund our team can provide life-saving care for so many animals in need.