By Karen Foster, Kennel Technician
It's pretty common to run across fellow hikers with their Canine friends while out for a hike. Lately, however,  there's been a growing number of less conventional friends joining in on the fun!  CATS!
Over the last few years, social media has contributed to the popularity of exploring felines known as adventure cats. These energetic and curious trail walkers have become an inspiration for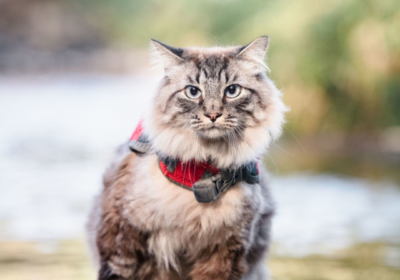 many cat owners who wish to take their cats outside! Do you have a feline who might like this life style?  Here are some things I've learned while adventuring with my own cat.
Any kitty who wants to explore outdoors and will wear a harness and leash can be an adventure cat! The most important things to do are be safe, find a harness that fits your kitty and make sure your cat is enjoying themselves.
It's important to purchase a harness designed  for cats to get a good fit. Be sure it is snug around the neck and ribcage, but does  not restrict your cat's natural movement. A leash of 6 feet or longer is ideal to allow cats to wander. Also, It's highly recommended to have a backpack carrier for your kitty's safe space or ride when needed . Once you have your supplies, you can start training!
Begin by leaving the harness and backpack out where the cat can pass by and explore them for a day or two. Once your cat is familiar with these new objects you can try the harness on. Many cats will 'flop over' the first time you harness them. This is normal!  At this stage, distract with play time or treats while your cat adjusts to the feel of the harness. (This step can take days of short sessions for some cats.) Once they are walking around while harnessed, you can leash your cat and start to explore!
Start small.  For your first adventure try exploring your yard or a nearby park. A quiet place with few people is best for kitty's first few outings. Be sure to bring your safe zone along, just in case. While out, keep them leashed. Cats can escape in many directions, including scaling a tree in seconds if frightened, so be alert and observant while out.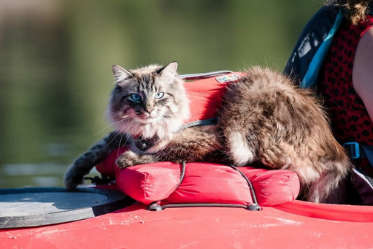 Once you have determined the area is safe, let kitty lead the way! This is their time to explore the world. Everything is new and exciting! Let them follow that excitement!  Once they get used to the idea of outings on a leash, you can start to direct them more.
When your cat seems to be comfortable with small adventures, try new places  and longer adventures. Every cat is unique so introduce them to a variety of activities. Soon, you may be taking your feline camping, on backpacking trips, on your paddle board or kayaking! The paw-sibilities are endless!
Happy tails adventurers! May your days be full of trills, slow blinks and purrs! For more detailed  information on training your adventure cats, check out at Adventure Cats – Living Nine Lives to the Fullest.
Photos by: Marybeth Bryant