Community Stepped Up for the Animals
The day was hot, but the tails were wagging! Our 18th Annual Parade of Paws brought out over 250 walkers and 215 dogs who raised over $35,000 to help rescue homeless animals!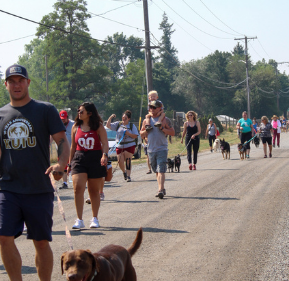 The Parade started off with a salute to First Responders, Essential Workers and Rick Clark, founder of the Spokane Quaranteam. We selected them as our Grand Marshals to honor those who were so vital in helping us through the last year.
The most popular spots along the route were the water stops where humans could grab an iced bottle of water and dogs could refresh in a wading pool. But the misting tunnel (sponsored by Pawpular Companions) at the end was probably the favorite spot for humans and canines alike.
We want to give a huge WOOF of thanks to our top fundraisers:
The top team was TSI Wagon Wheelers, representing Trans-Systems. They brought in $3559.85! Animal Advocates of the Northwest raised $2000, the Eye Pack from Spokane Eye Clinic raised $1167.67, followed by Global Credit Union with $1017.59. The Shadle Walmart, a participant for many years brought in just over $1000.
The top individual fundraiser was Haley Jewel who collected over $2500!
We want to thank all the walkers, the vendors, the volunteers and our sponsors. Your support means we can provide life-saving care to animals in need of food, shelter and medical care.