by: Jenifer Priest
Found in a Texas park, Sandy and Sadie came to SHS as part of a transport of dogs that were scheduled for euthanasia at a Texas shelter. They came to us as a bonded pair and needed the security of one another. Both dogs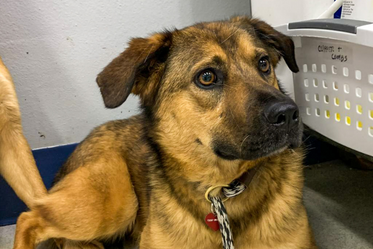 arrived in what is known as flight mode, and we let potential adopters know that they were both huge flight risks. We are thankful that an interested adopter came to visit Sandy and Sadie every day for a week and after gaining their trust she took them both home.
One day, Sandy dug under the fence and escaped. Sandy was loose for about a week with intermittent sightings of her when we received a report that she was on the Centennial Trail near the river. Shelter Manager Sheena went out to look for her and when she spotted her, she just let her be, watching Sandy instead of going up to her. Sheena called the adopter who came right away, along with Sadie.
They brought Sadie close to Sandy and put her over a guardrail to get closer. Sandy spotted Sadie and started slowly coming her way, then ran right over to her. Sheena and the adopter got a leash around Sandy and along with Sadie's help was able to bring her home safely. The fence has been reinforced and we hope that Sadie and Sandy continue to grow their trust in the adopter who so wants them to be and feel safe and secure!