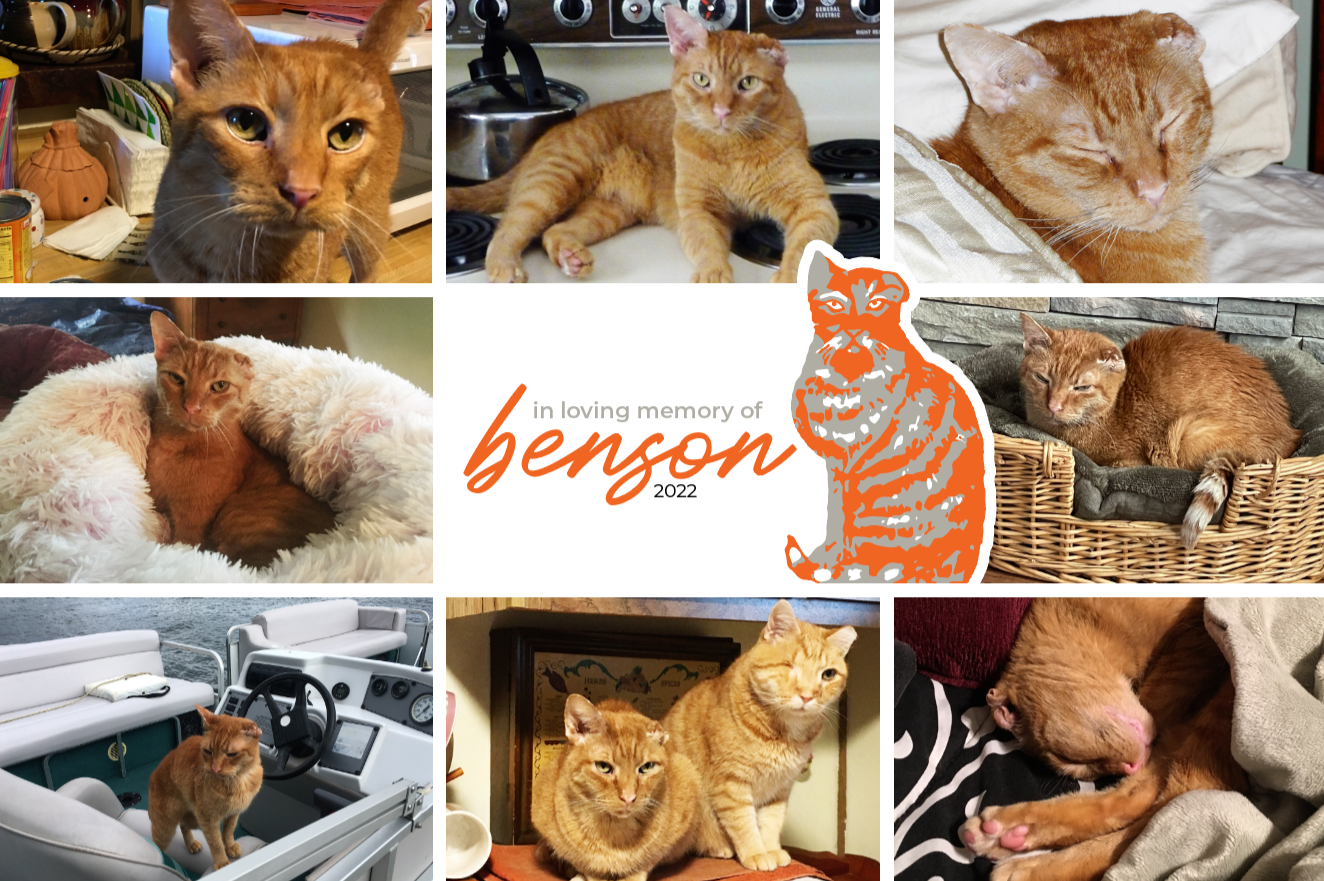 Finding love online can be a gamble.
Is the profile picture really what they look like? Is the bio an accurate description of who they are? Will the chemistry be there when you meet in real life?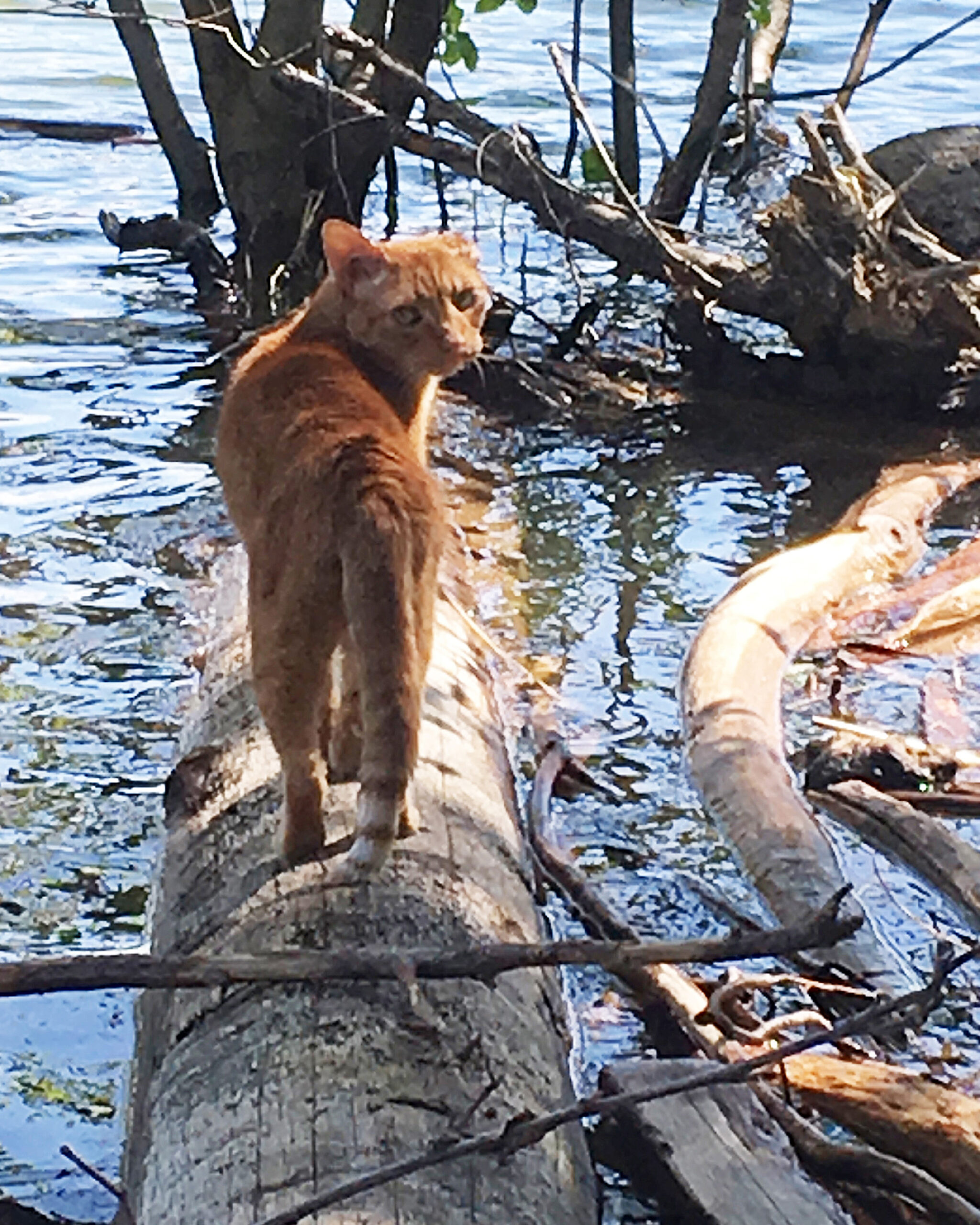 Yes, finding love online can be a gamble, but it is a gamble that paid off for Lorraine. In 2006, Lorraine met Benson and it was true love.
What drew Lorraine to Benson? It is hard to say whether it was his bald spots, excessive licking, or one deformed ear. By the way, Benson was an orange cat Lorraine found online on the Pet Finders website, making theirs an online love story that would span 16 years.
It should be noted that Lorraine has another true love, her husband Gavin, who also welcomed Benson into their home and their lives. He was their cat, but the connection between Lorraine and Benson was extra special.
"I was scrolling Pet Finders one day," says Lorraine, telling how the love story began, "and the little description for him said, 'He follows you around talking all the time.' He only had the one ear, it was all mucked up, and I thought, well who is going to adopt him?" Concern for him, and his slim chances of being adopted tugged at Lorraine's heart and moved her from online views to a face-to-face visit.
"We were looking for an orange cat, and there were three cats I had picked out on Pet Finders, and I went to see each one," she says. "There was a really nice orange cat, but I picked Benson because I didn't think anyone would adopt him. When I first went to get him, he had this deformed ear and bald spots on his back. The woman who was fostering him said, "Oh, he licks when he is under stress, but he is okay." I thought, I don't know what I am taking on here, but I'll take him home.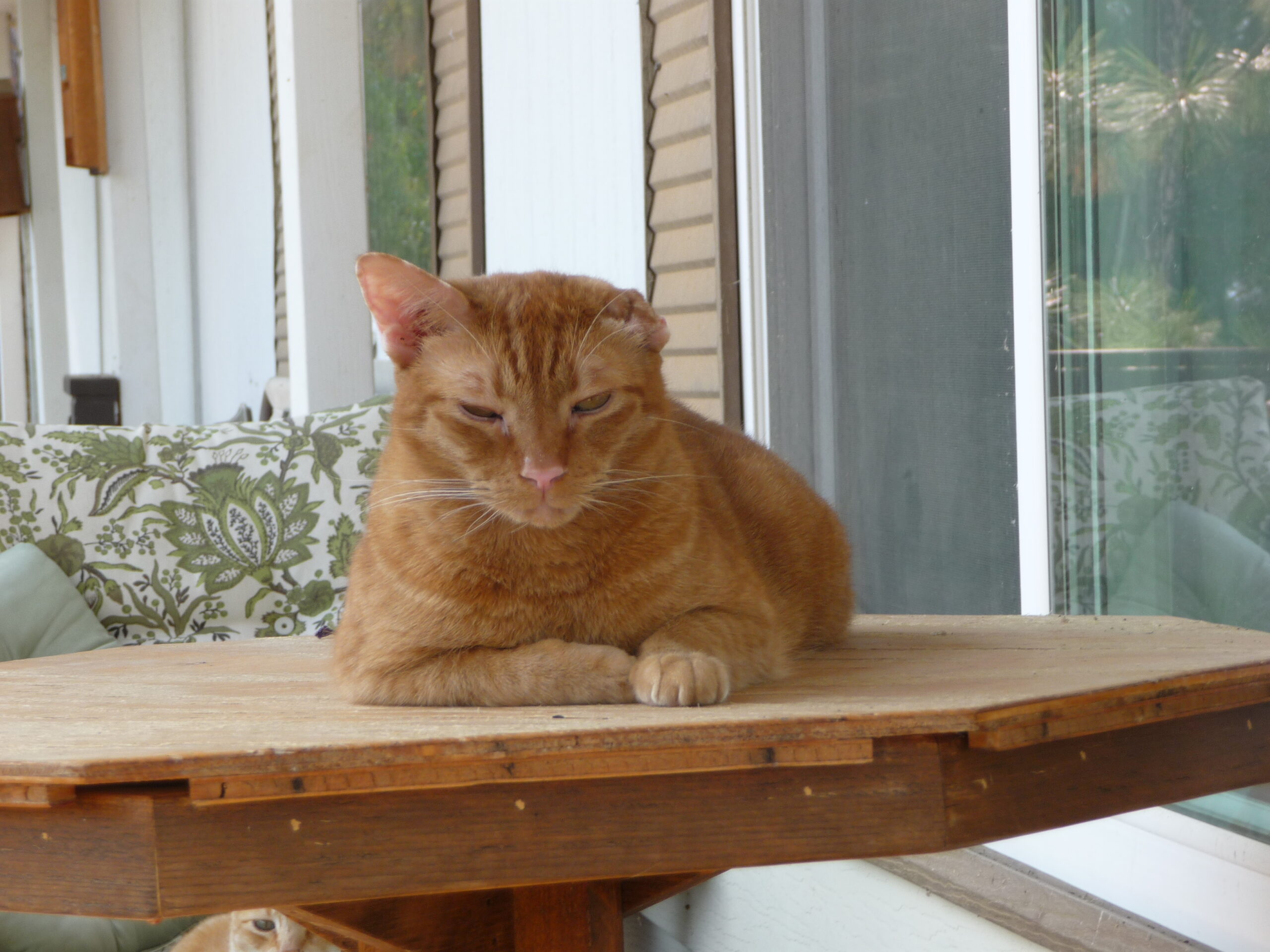 Lorraine stopped at her veterinarian, Dr. Hunter's on the way home for an exam of Benson, and she asked the vet about the bald stops. He said it was from stress. The vet said he could give Benson an anti-depressant, but suggested Lorraine take him home, suspecting that that behavior would stop once Benson got in a stable place. And it did!
While the stressed behavior stopped, that does not mean that Benson settled into being a basic cat. This fella had personality galore, and that is part of what made Lorraine love him so much.
"He would pace the perimeter everywhere and he just had a hard time settling," says Lorraine. So she went out and bought a baby sling. "The minute I put him in it, his eyes would half close and he would calm," she says. "So when he would get all wound up, I would put him in there and I could do things with Benny in the baby sling. He was quiet as could be in there. He always wanted to be involved in whatever you were doing. If you were cooking, he would get up on the counter, he was just attached to me like no other cat had ever attached."
Lorraine and Gavin have always made their cats' health a high priority, taking them for annual bloodwork to stay atop any health concerns, and they even have their own acupuncturist. On one visit, a veterinarian who was working at their clinic wanted to do surgery on Benson's ear to clean it up. "It was real bulbous looking, so he did surgery to remove some of the scar tissue," says Lorraine. "Benson still had a mucked up ear, but it didn't look as bad after the surgery."
Lorraine and Gavin were not Benson's first home. He had been fostered by a woman who had 25 cats, and from what information Lorraine was able to piece together, Benson and another cat had been adopted out and then returned, supposedly because the woman who adopted them moved her mother into her home, and her mom was allergic to cats. "But Benson was a very annoying, demanding cat, so not everybody would like him," says Lorraine. "He had a strong personality, and was probably the smartest cat I have ever had. The other thing that was really unique about Benson is that he wasn't afraid of anything – dogs, people, nothing. He would come when he was called. When the doorbell rang he would run to the door. He was very doglike. He also had a very unique meow.  I never heard him until I got home. I put him in the car and he was fine, I got him home and "MEEEEEOOOOOOW! I thought, oh my gosh!!"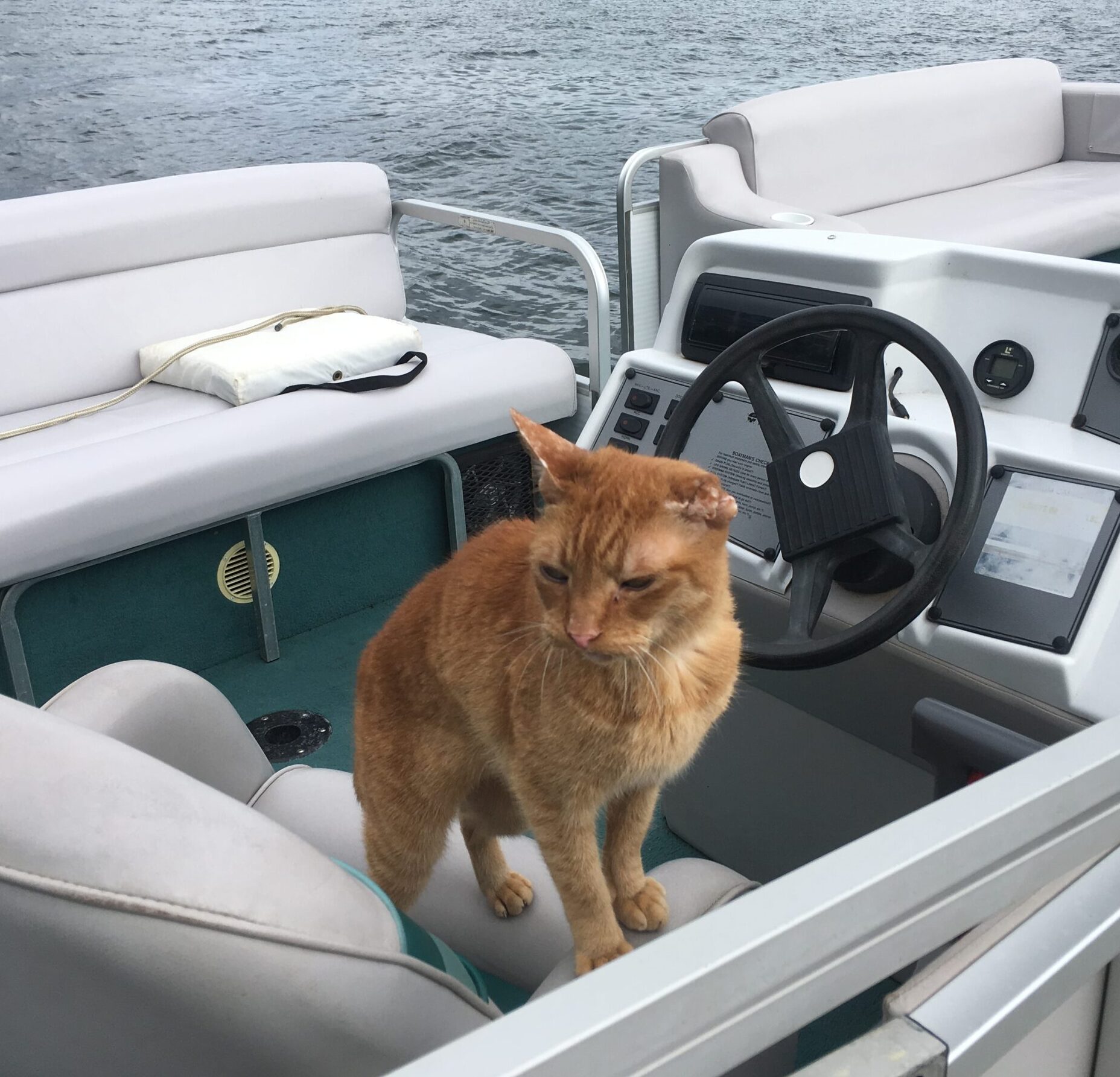 "Benny was either a siamese or a dog in his previous life," says Lorraine. "One time I was on the phone with the credit card company. Benson in the background was cranking. The guy on the phone said he better let me go so I could get back to my little one. I said, 'Um that is my cat.' He busted out laughing and said, 'That's a cat?!' Other people asked if we had a duck or a sheep. Someone described him like a squeaky gate. The one thing I regret not doing is making a recording on my phone. The last 6 months he became deaf so he didn't talk as much."
"He had the most annoying meow," adds Gavin. "It was really loud! He was always talking and he made very direct eye contact." Lest you think a loud meow means Gavin does not love cats, guess again. "I grew up on four acres, and we had 14 barn cats," he says. "Orange cats are my favorite. I don't know, there is just something about an orange cat and their personalities. I never had a bad orange cat."
One of the connections Lorraine made through cat adoption, was a woman who had another orange cat that needed a home. "She really wanted me to adopt him," says Lorraine of the second orange cat. "I said I will see how Benson does and give me a couple weeks, but if you have someone who will adopt this cat, please adopt him. The woman said, 'I am saving him for you!' So I took Gavin out to meet this cat and this cat immediately attached to Gavin. So we adopted him too! That was Hobie Cat.
Hobie Cat and Benson had a wonderful friendship. They would chase each other, they got along beautifully and they never fought. It was really nice. When one of Lorriane and Gavin's other cats, Mo, died they got Captain Jack, a one-eyed orange cat from the Priest River Animal Shelter.  Benson has always been the king cat. My reason for adopting these other two was I wanted older cats but not too old, because I wanted to have more cats that would do what Benson did, because Jack started emulating all of Benson's behavior. Jack started running to the door and I thought if I can get another cat, I can prolong those behaviors."  Sadly, Hobie Cat passed away at the age of 10 from cancer.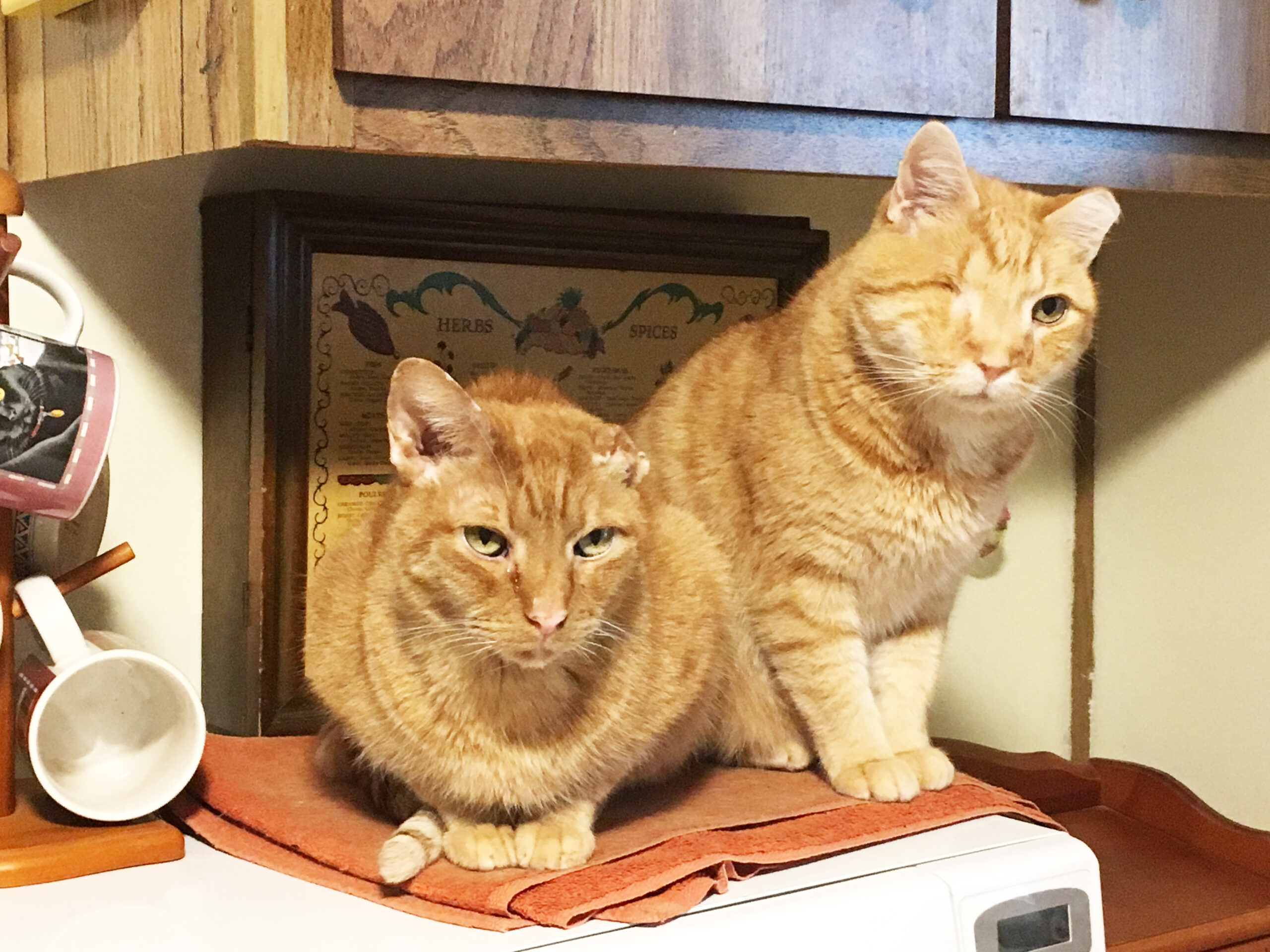 Benson would also accompany his family up to their property in Idaho. "He willingly got into cat carriers or would ride on may lap in the car.  He was a great travel cat. We would go on walks and he would follow me and then Jack would follow, too. Every now and then someone would drive by and think, 'She's walking her cats!'
In the height of Covid, when everyone was isolating, the two bought a propane heater and had a social bubble with one other couple and a neighbor. "We would sit outside, and Benson would come outside and sit on my lap. He was part of the bubble. He loved warmth."
Benson was always with Lorraine. "When we would go to the lake he would just sit on her lap," says Gavin of the connection between Lorraine and Benson. He was the best sleeper cat. He would get under the covers and not move.
"If someone asked me three words to describe him, I would say annoying, demanding, but also very endearing," says Lorraine. "He was my soulmate.  There was this attachment like none other that I have ever had. I don't know what that means about him. I have had cats my whole life, but he was the most special of all them. I have loved all my cats my whole life, but I don't know, it was different with him."
Being soulmates meant life was so sweet, but separation was that much harder. That separation came in the early spring of 2022, when Benson unexpectedly passed away.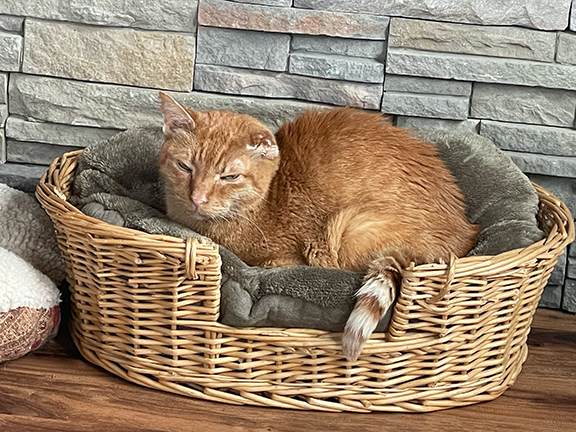 "Benson was around 19 or 20, he was arthritic and deaf, and he had a little bit of kidney failure and a heart murmur, so he had some health issues, but overall he was really doing quite well," says Lorraine. "I figured I would at least have him through the summer if not into next year, so his death was such a shock. I was reading about how unusual sudden death is in cats. My thought was that he was so attached to me, he wouldn't have been able to leave even though it might have been his time, and I was so attached to him, and I don't know if I ever could have made the decision to put him to sleep, so I think in some ways maybe the universe intervened, and he didn't have to make the decision and neither did I. But, oh it was horrible. It was so horrible. I didn't have any warning."
After the loss of such a precious loved one, it is challenging to think of ever filling that void in your heart, but Lorraine and Gavin love cats.
"I can't see not having a cat," says Gavin of what is in their future.
"I would like to have a kitten, maybe" says Lorraine. "I haven't had a kitten since I was in high school."
Lorraine and Gavin know if they get another cat, it won't just be adding a pet to the family; it will be adding a family member to the family.
"They are family members and friends, they aren't a pet," said about the love for their cats. "There is nothing like having a cat on the lap. That is a rule in the house: If someone has a cat in their lap, then they get waited on. Cats bring so much joy. They are the cheapest psychiatrist you can get. They help reduce stress and blood pressure and all of that. They can help lengthen your quality of life."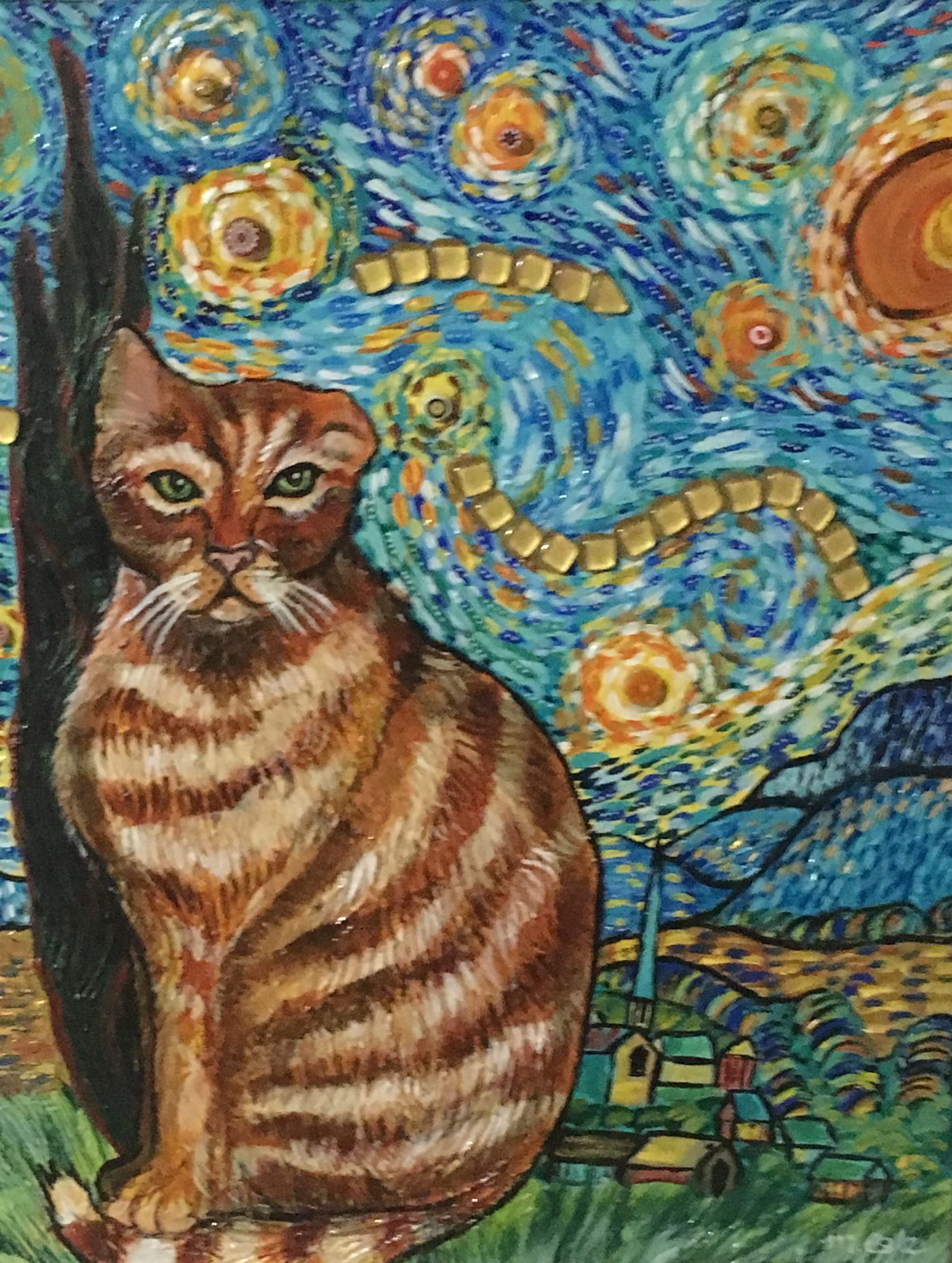 "Pets bring so much to our lives, but they also are a commitment. We need to take good care of them.  Having a pet is a real commitment."
It's not just a commitment, but in the best cases, it can also be true love. And that is a gamble worth taking.
P.S. Lorraine and Gavin did adopt another orange cat, Freddie Mercury (Freddie for short) last August, 2023. He was around 4 1/2 – 5 months old.  And he's a whole other story.