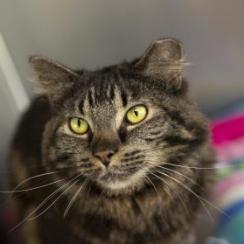 In the last 4 weeks, 132 cats, 94 dogs, and 1 rabbit found how sweet home can be! And while we always hope these are fur-ever homes, we know that circumstances in life can change and we will welcome an adopted animal back into our care when necessary.
Bruna is a shy kitty who first came to us in 2017. She came back in 2020 and again this year. Bruna, best wishes in your new home – we hope this one IS fur-ever!
Nilla spent many months in our care because she tested positive for heartworm. While being treated for heartworm, a dog must have complete rest, so Nilla spent four months in foster care as she recovered.