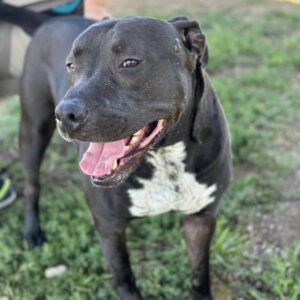 Dozer Dude is a such a funny character. He loves butt scratches and lots of cuddles. He is a big boy of pure muscle, but he acts like a lap dog. He usually doesn't jump up on his human friends but if he does, he might knock them over!
WHAT SHS STAFF MEMBERS AND PAST OWNERS SAY ABOUT DOZER DUDE:
He is such a good boy. -SHS Dog Walker
He has been doing well, he has been waiting in the kennel before I enter. He will sit and wait for food as well. -SHS Kennel Tech
Dozer Dude is all muscle!
Instead of running around outside, he will just run straight to me for love and pets. -SHS staff member
Even though he is 76 lbs and pure muscle, he acts like a lap dog trying to climb on top of you for your love and attention. -SHS Dog Walker
THE TYPE OF HOME DOZER DUDE IS LOOKING FOR:
A quieter home without other animals. Dozer Dude has shown aggressive behavior towards small dogs and cats.
Dozer Dude would do best in an adult only home.
He is looking for a dog savvy person to give him the exercise he needs and the love and cuddles he deserves.
If you are looking for a chunky dog friend who loves to cuddle, Dozer Dude is the perfect companion for you. Don't forget about him though, if he is locked up for too long, he builds up frustration like any other dog!
More about Dozer Dude HERE.