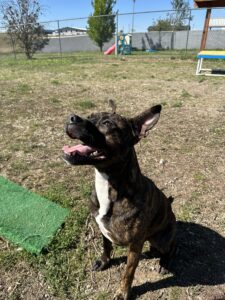 Rebel Wayne is looking for his forever home… and it might just be with you! This spunky 3-year-old mixed breed was first introduced to SHS back in April of 2022. Now, over a year later, Rebel Wayne is still searching for his perfect person.
WHAT SHS STAFF MEMBERS AND PAST OWNERS SAY ABOUT REBEL WAYNE:
Rebel Wayne is super smart he knows "sit," "come," and "down."
He has lived with other cats and dogs but will require supervision at first.
Rebel's past owner says he is fully house-trained, and he can be trusted home alone.
This pup doesn't like the vet and will require a muzzle for appointments.
THE TYPE OF HOME REBEL WAYNE IS LOOKING FOR:
He enjoys going on car rides, walks, and hikes. He would love a forever home who will take him on adventures.
He often feels nervous or threatened by others, he needs a calm environment with his own space and his own toys.
As he gets older in age, Rebel Wayne might enjoy a home without other animals.
This big jumper requires a 6ft fence!
Rebel Wayne is a good pup who loves learning new tricks. He would benefit from some extra training since he does jump up on everybody! He enjoys treats and chicken ice cubes, as well as long walks. He does well on a leash but might chase after passing cars and joggers, so a private trail or street might be best for him.