New Hope Express
It's Big, it's Orange and it's on the Road!
The New Hope Express, SHS's new transport van is now operational, saving the lives of dogs and cats across the state and the country!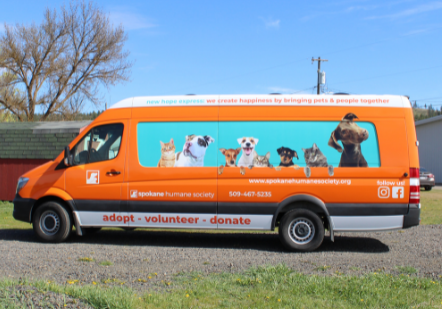 Earlier this year, we were presented with the extraordinary opportunity to purchase a slightly-used (less than 17,000 miles) transport van. Two local companies immediately stepped up with matching donations. Bark, A Rescue Pub and Maryhill Winery kicked off the campaign and we received numerous donations from our supporters.
Then Petco Love, Tito's Handmade Vodka and TDS Fiber responded to our requests for sponsorship and brought the funding home.
The van has already been used to save the lives of dozens of cats and dogs from around Washington. In the months to come, the van will cross the state border as we meet up with rescue programs from around the country to pick-up dogs and cats who have run out of time in shelters.
We transport animals because being humane doesn't stop at our county or state borders. Transporting animals saves their lives and helps give options to adopters who are looking to find the best fit for their family.
When you see us around town, give a honk and give us some room – precious cargo is on board!