From auctions to benefit walks to outreach adoptions, your participation helps us build a community in support of animals. For the many events we coordinate throughout the year, be sure to follow us on Facebook.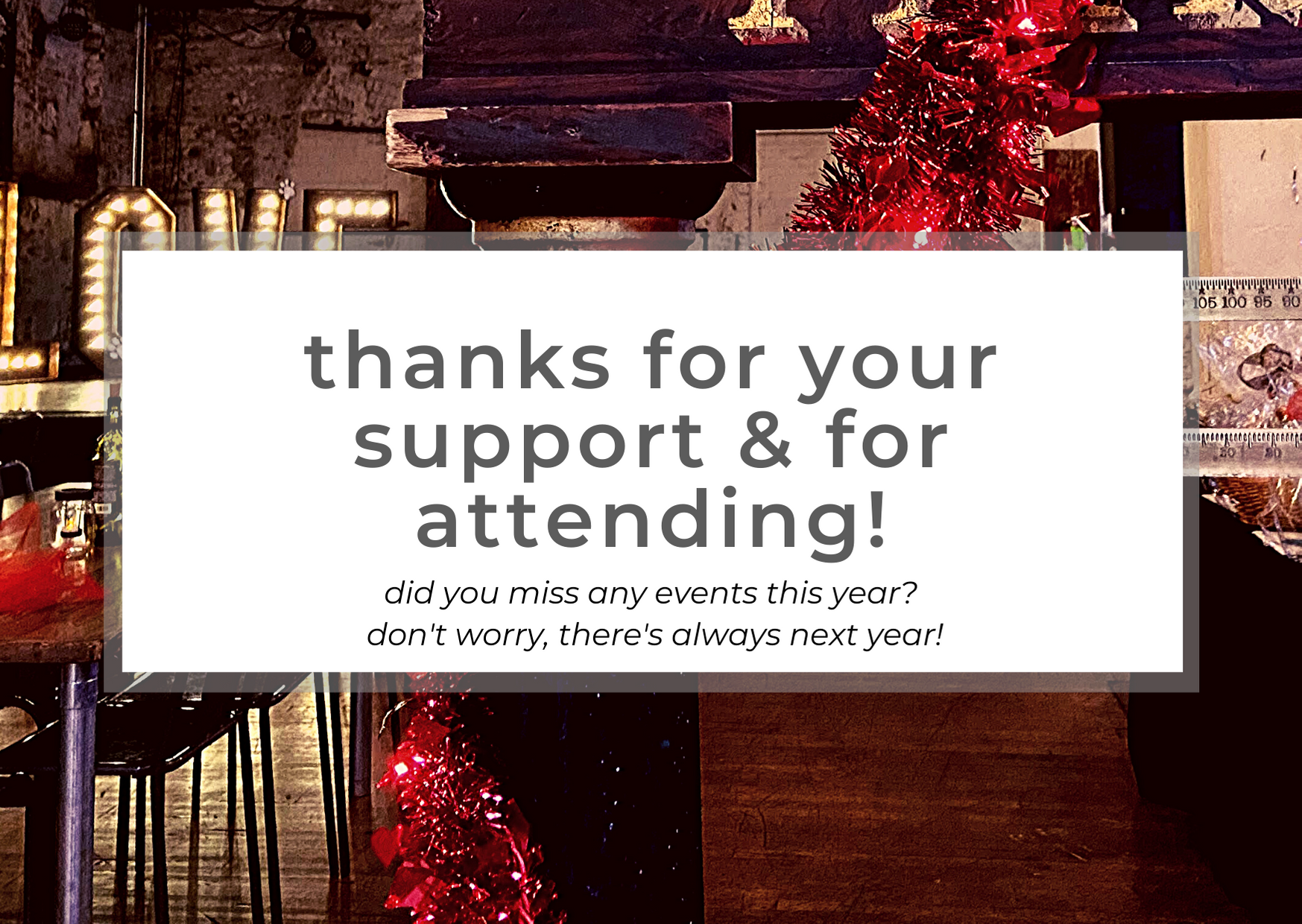 joe's house & tito's quarantine fundraiser
Joe's House | 3117 N Argonne Rd, Millwood, WA 99212
Joe's House teamed up with Tito's Handmade Vodka to raise money for your furry friends here at Spokane Humane Society. For every 1 liter bottle of Tito's sold at Joe's House, the restaurant will donate $5 to the Spokane Humane Society. Tito's pledged to match the donation!
The goal is to sell 100 bottles by May 20th.
People can swing by the restaurant at 3117 N Argonne Rd. to participate in the fundraiser. The restaurant is also serving up southwestern-inspired meals to-go Tuesday through Saturday from 12:00 p.m. until 7:00 p.m.
For more information about Joe's House, you can visit their Facebook page here.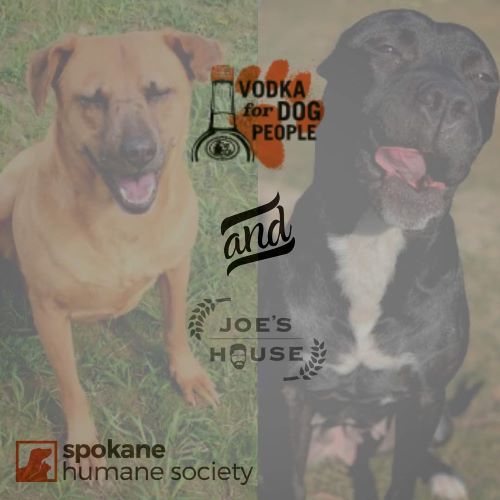 egg-cellent easter photo contest
Comfort of Your Home | 123 Quarantine Life Rd
Let's make the best of this #QuarantineLife and have an EGG-cellent time at home! Dress up your furry friend, support the Spokane Humane Society and enter for a chance to win an SHS Swag Basket – and bragging rights for the most EGG-cellent floofer!
STEP 1: Send your cutest, silliest Easter themed picture of your furry friend (dog, cat, iguana, bird – we don't discriminate!) to SHSEasterPhotoContest@gmail.com and include your name
STEP 2: Submit your $5 donation per photo using the fundraiser link below or here: https://www.facebook.com/donate/2254119191564541/
STEP 3: That's it!
You can submit as many entries as you like up until Saturday, 4/11 at 5pm PST. On Saturday, 4/11 at 5pm PST, we will post all submittals in a FB photo album and the community (plus everyone you know) will be able to vote by liking it (click on that thumbs up button) for the next 24 hours. We will tally up the likes the following day on Easter Sunday and will announce the winner with the most likes at 6pm PST!
All proceeds will benefit the care, shelter and placement of the furry friends we get to help! Anyone can enter, so let's get creative and use the stuff around your house. Happy photo shooting!

brews for bowser – pint night
For the Love of God Brewing | 2617 W Northwest Blvd
Drink a beer, save a life! Show your support and join us for our first "Brews for Bowser" pint night on Thursday, March 12th from 4pm-close at For the Love of God Brewing in the Audubon neighborhood.
For every pint purchased at the event, For the Love of God Brewing will donate a $1 to the Spokane Humane Society. So whether you enjoy a hazy IPA, a fruited sour or a coffee-forward stout, come enjoy some local beers and support your furry friends at the Spokane Humane Society!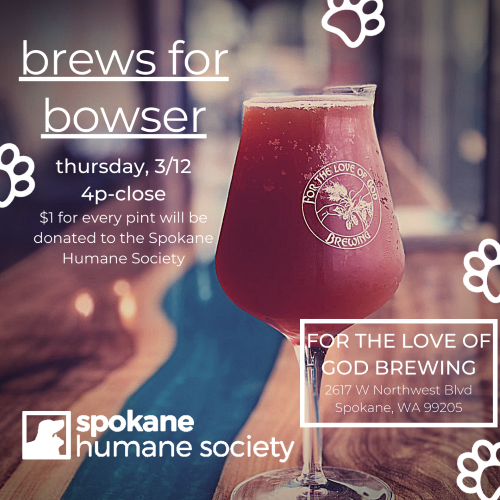 petsmart national adoption weekend
PetSmart Northpointe | 9950 N Newport Hyw
Save a Life, Adopt a Best Friend! Join dozens of puppies and so many more furry friends this Friday, 2/28-3/1 at PetSmart Northpointe for the National Adoption Weekend! Maybe you can find your furever baby this weekend!
If you can't adopt a pet in need, inspire others to! Join us at National Adoption Weekend and post a picture of an adoptable pet using #PicMe to increase their chance of getting adopted.
We'll have a fun raffle and adorable puppy love shirts for sale! Come support us this weekend!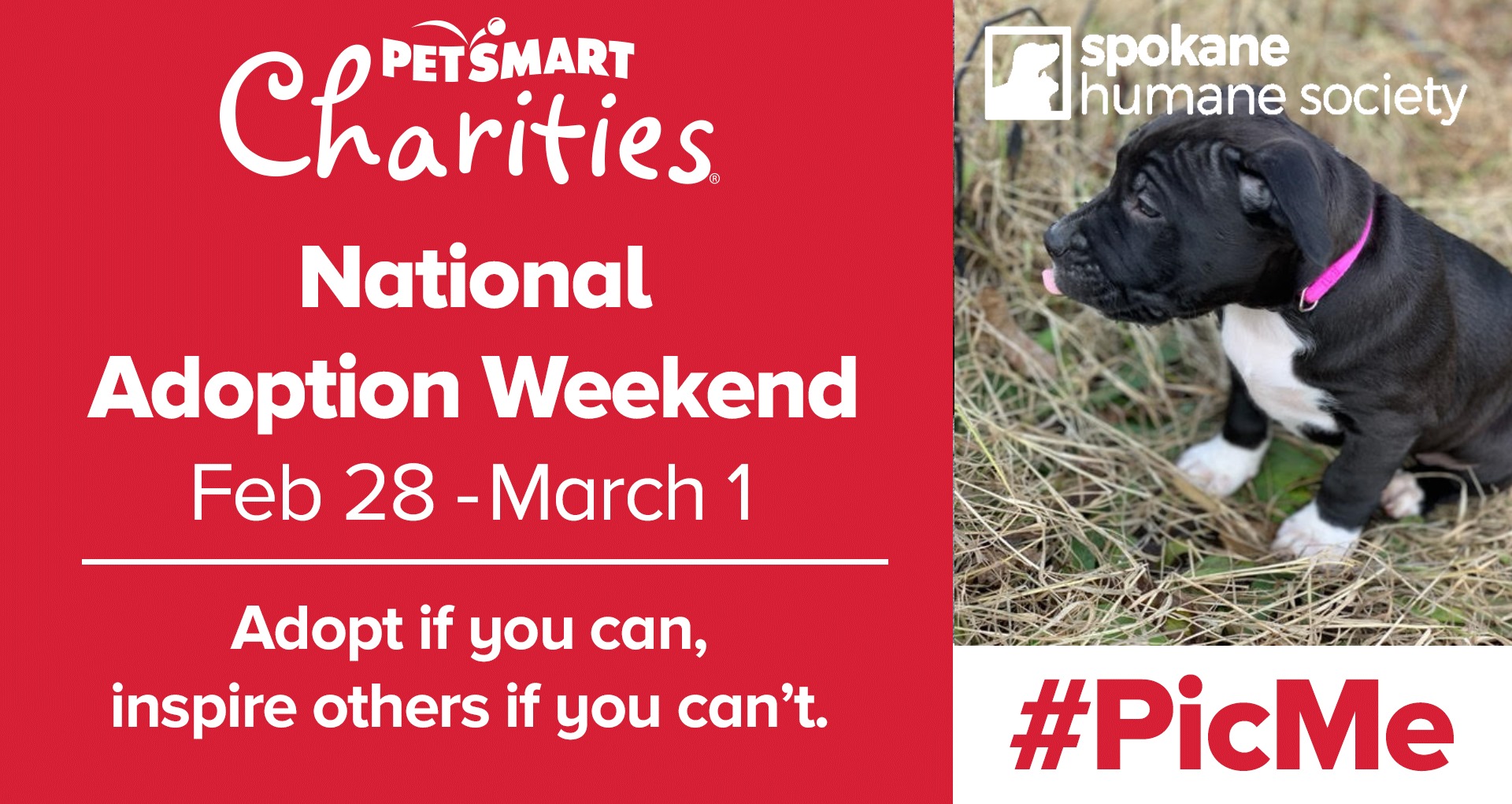 puppy love social & silent auction
Overbluff Cellars | 304 W Pacific Ave (Cracker Building)
Please join us for our annual Puppy Love Social and Silent Auction fundraiser! Delicious eats from Nectar Catering & Events, Pizza Rita, live music and your first glass of wine are included in your ticket. Browse romantic silent auction items that are perfect for the last minute Valentine's Day shopper. Also, did we mention that we'll have adoptable puppies to cuddle with and take pictures against our floral SHS backdrop?! Can't wait to see you there!
Tickets: $25 in advance; $30 at the door. Questions? Call Terena Thi, Development Director: (509) 467-5235 ext. 211.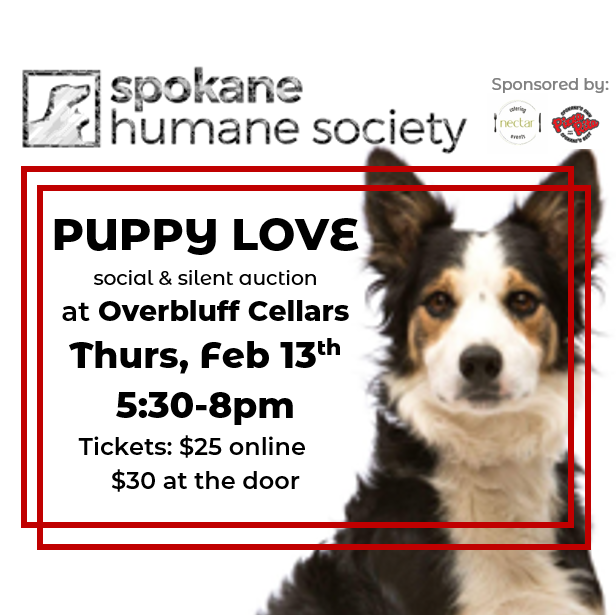 puppy bowl mmxx
adoption event
PetSmart at Northpointe | 9950 N Newport Hwy
It is that time of the year! Come join us for our annual Puppy Bowl Adoption Event featuring 14 adorable adoptable puppies playing for your hearts and a forever home! For a $5 donation, you can be entered into a drawing to be eligible to adopt one of the puppies. Drawings will be on a first-come basis. The event begins at 9 am and the drawings will begin at 10 am.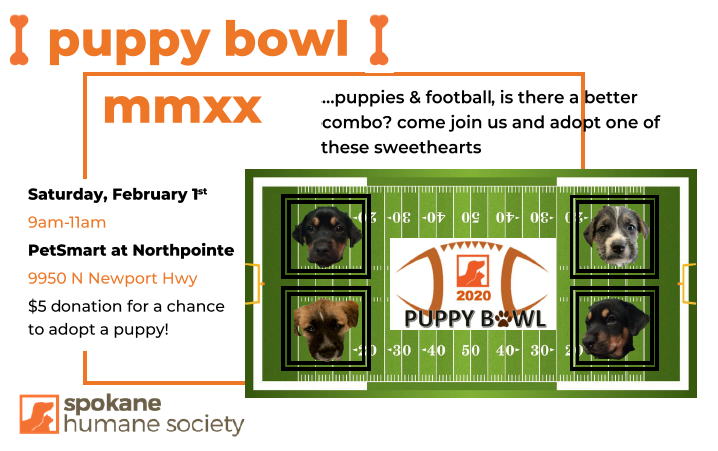 Davenport Grand Hotel | 333 W Spokane Falls Blvd, Spokane, WA 99201
Please join us at the 20th annual FurrBall on November 16 at the Davenport Grand Hotel. What started as Tux and Tails has grown to a 550 seat gala dinner which has been voted one of the three best galas in Spokane! This fun, touching and swanky night begins with a cocktail hour, followed by a three-course sit-down dinner, live and silent auctions, and a parade of adoptable pets. Wear your finest to this formal event – and enjoy an evening of festive fun in support of our furry, four-legged friends. $125 tickets are now on sale. A table seats 10 people and guests must be 21 years of age. Dinner choices are either beef, fish or a vegan meal with a surprise dessert. Click on the button below to create an account and purchase your tickets today. Questions? Would you like to donate an auction item or become a sponsor? Please call (509) 467-5235 ext. 211
Almost $100,000
Raised at FurrBall 2018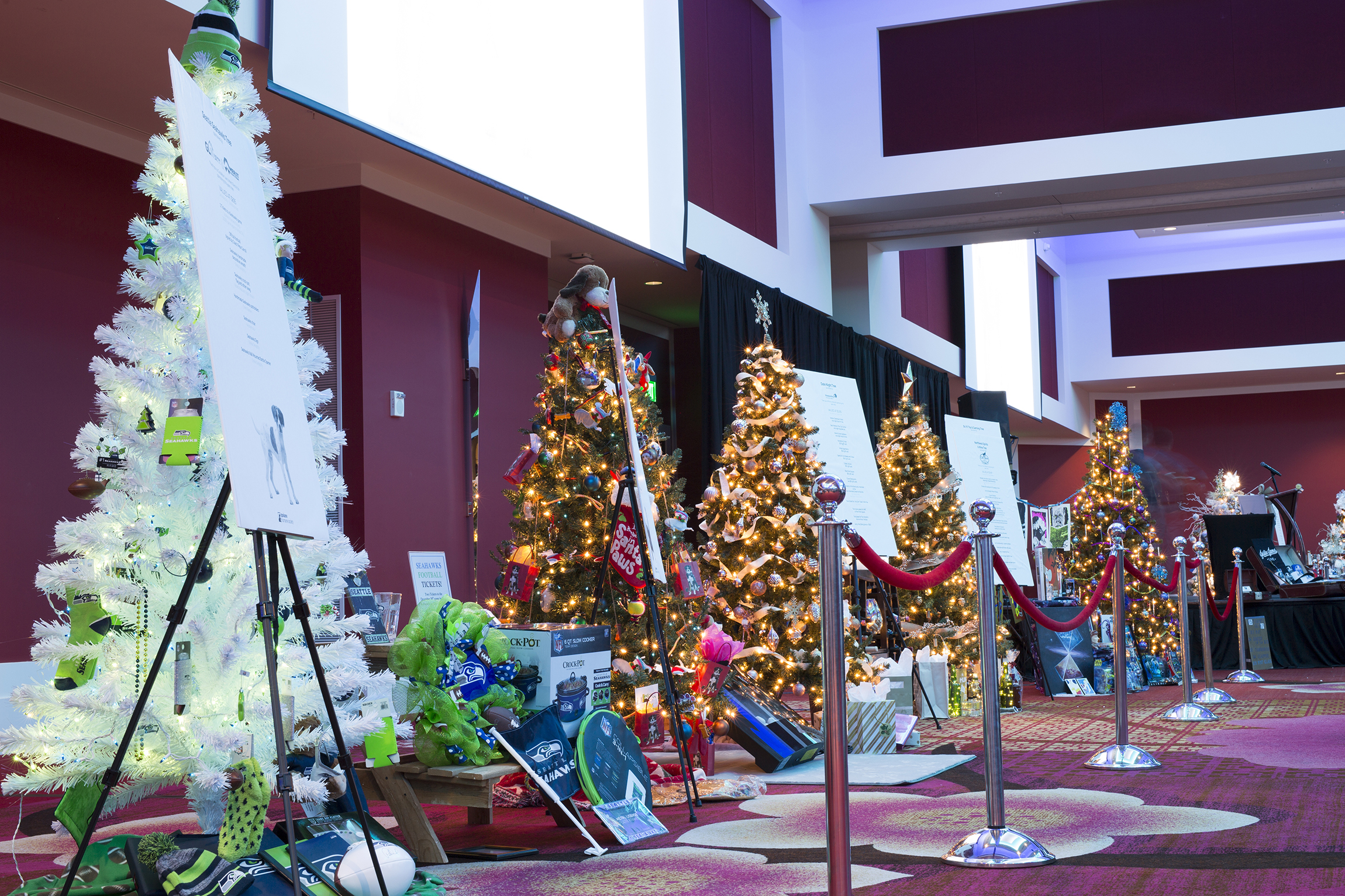 Spokane Humane Society campus, 6607 N. Havana Street
Trunk or treat is a fun, family friendly event featuring decorated car trunks and lots of great trick or treating. It runs from 1-4 p.m. and everyone is welcome. Contests for best costume, best decorated trunk and best dog and owner combination. Bring a donation of non-clumping kitty litter to enter a contest. Tickets: $1 per person or $5 for a family. Would you like to bring a decorated trunk? Please email terena@spokanehumanesociety.org or call (509) 467-5235 ext. 211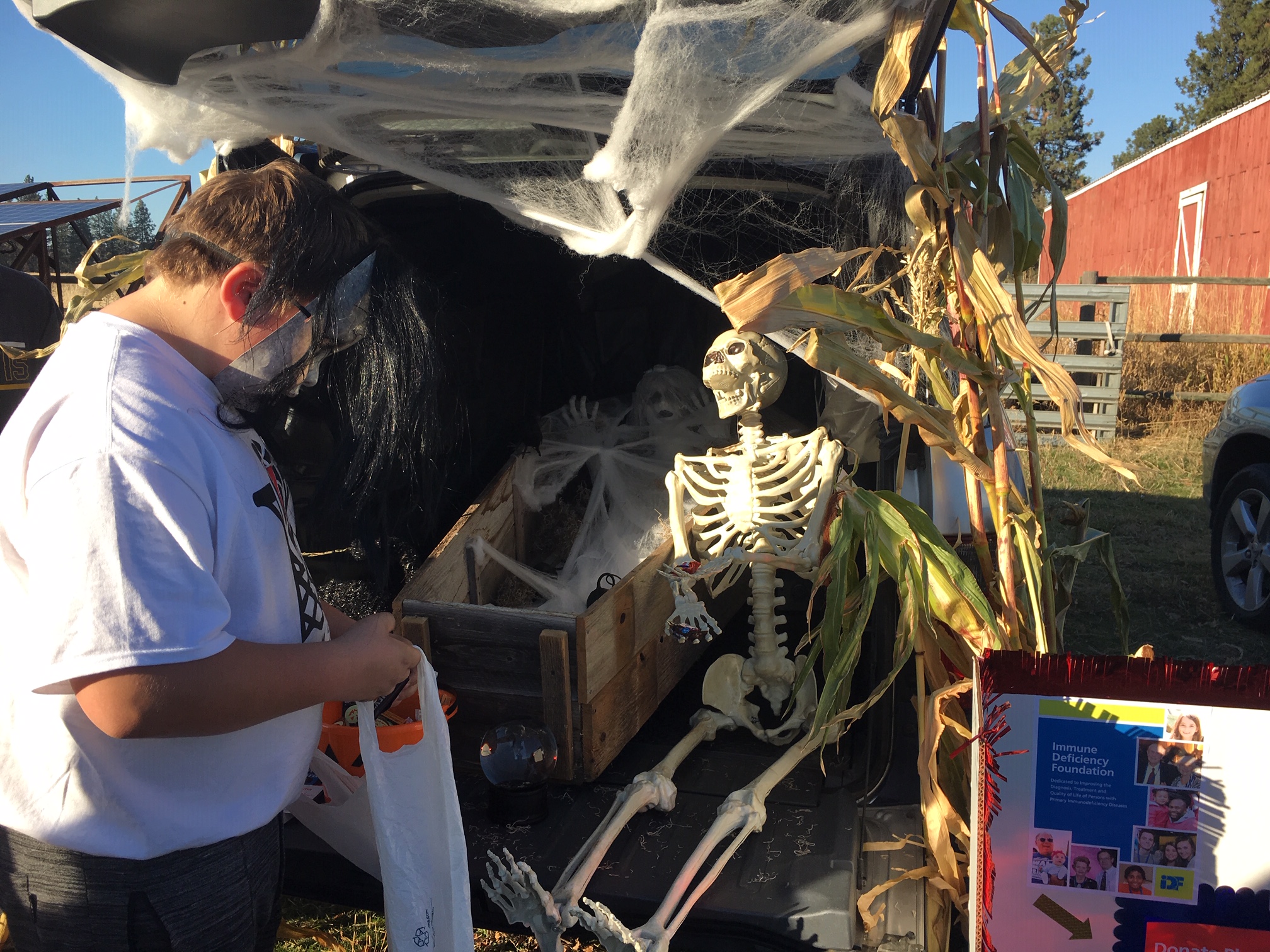 6607 N. Havana St. Spokane, WA 99217
The Parade of Paws is our annual pledge walk in support of our shelter work. Raise a dollar or $10 or $57 or $675 – whatever works for you – our cats and dogs are grateful for every penny! This year we will have music by the Angela Marie Project, beer by English Setter and ice cream by Ben & Jerry's … plus many more food trucks and a huge vendor fair.
Individuals
Grab a leash and your lucky labrador, siamese, goat or iguana and spend a beautiful summer morning raising money for animals in need.
Teams
Rally your coworkers, friends, church community — whomever! — and compete head-to-head against other animal-lovers for awesome prizes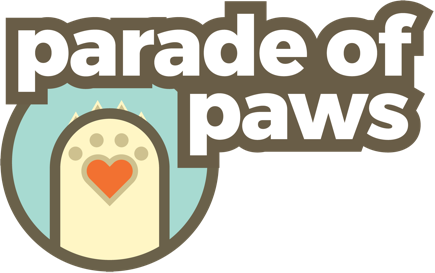 puppy love silent
auction
Maryhill Winery, 1303 W. Summit Parkway (Kendall Yards)
Join us for Puppy Love, a fun silent auction fundraiser. The first glass of wine is included in your ticket – browse romantic silent auction items that are perfect for the last minute Valentine's Day shopper, and have a light bite to eat. Dog friendly. Tickets: $20 in advance; $30 at the door. Questions? Call: (509) 467-5235 ext. 211