Today marks 125 years of serving companion animals in the Spokane area! Since 1897, the Spokane Humane Society has acted as a refuge for animals in peril by providing care, shelter, and placement for tens of thousands of lost, neglected and unwanted animals. Throughout the years we have served many functions and now focus on the care and placement of companion animals. For decades, we battled overcrowding and were forced to make life and death decisions based upon available kennel space. By mandate of the Spokane Humane Society's Board of Director's in January 2006, SHS stopped euthanizing animals due to lack of space. Since then, we reached our goal of not euthanizing healthy, adoptable and treatable animals. We continue to improve overall animal health and have sustained a live release rate of more than 95 percent since 2008!
In 1897, 18 charter members took the reins on animal cruelty and stood up against the status quo. Watching the work horses deeply struggle carrying luggage up the South Hill, was just the beginning. At that time, there was no organization to protect or shelter children or animals. The Spokane Humane Society was named on May 24, 1897 and incorporated on June 21, 1897 "that the object and purpose for which the Society is formed is to prevent cruelty to children and animals by causing the arrest and prosecution of violators of the law in such cases made and provided, and to do and cause to be done all the things legally and morally within the scope of the purposes and objects of such Society." Let's just say, these heroes had a lot of work to do.
Early on, they had the authority to provide tickets to those in the community beating or starving their livestock and assisted children in finding protection and safety during times of need. The Spokane Humane Society met twice a week and held many community events in support of bringing compassion and care for those in need in Spokane.
John Finch enters the picture, President of SHS – A wealthy man from England, arrived in America in 1862 at the outset of the Civil War. Described as "connected with every effort making Spokane's betterment" and the Finch Arboretum Park was named after him. J.A. Finch was elected President of the Humane Society early in its history with H.J. Cook being his Vice President.
H.J. Cook began measures stating the importance of transferring the animal pound administration to the humane society, H.J. Cook announced, "Our work, which we believe has already been beneficial to humanity, will vastly increase in scope and power under the new order of things. The society will take care of all impounded animals and collect the fees consequent." The city pound was packed full of dogs and the need for space grew!
The takeover was anticipated to be smooth but plans for unclaimed dogs were still underway. Euthanasia was not an option at this time and humane ways to dispose of animals was being discussed. Up until that point, unclaimed animals were not put up for adoption, but the idea to do so began to grow through H.J. Cook. A large section of the new building was planned to be kept empty just for that purpose, once ready to initiate, as well as office buildings and stables for stray livestock. Our local heroes  were making plans beyond many others.
The Spokane Humane Society was getting national attention for their good work in the community. The Spokesman Review stated: "Organizer of National Humane Society is here on Official Business." This National Humane Society worker, Mr. O'Hanlon, was headquartered in Milwaukee and had just gotten done with official business in Montana.
Upon his visit of the Spokane Humane Society, he declared that in Spokane he had found a humane society's who's work compares with the best. SHS was among the humane society's top best as not all had taken on the impounding of dogs or livestock. Not to mention the idea of adding adoptable dogs to the mix, too!
The National Humane Society's goals at this point were to promote education in the humane treatment of animals. Mr. O'Hanlon had already addressed 60,000 children in 43 states on the important of humane treatment and had organized 43 societies at that point. He offered his assistance in humane education and then was going on to help the animals of Walla Walla, Seattle, Tacoma, and even the Philippines!
With Mr. O'Hanlon's help, "The Band of Mercy" was created to teach children the importance of Humane Education and volunteers worked with public schools and teachers to start the continued initiative. After O'Hanlon departed to help other Humane Societies nationwide, great progress was made and future generations were given the education that animals deserve love and care. This time in our era may just have been the awakening of compassionate care given for animals in need.
In its first meeting after Mr. O'Hanlon's departure, the Spokane Humane Society announced it would purchase a lot on the North side of Front Avenue a short distance West of Division street to further its mission. The plan was to build a two story brick building 30×50 feet in dimension with offices and stalls separated by a large driveway. The top story of the humane society was to be used as storage and the back lot was planned to be the dog kennels and cattle shed. At that time, they were receiving funding through membership fees. They needed about $6,000 to begin building and winter had quickly approached, so they decreased their membership fee to $1 and added many more members.
Now, the Spokane Humane Society not only had Animal Control Officers to hold pet/livestock owners accountable, but now a complete facility ready to take on its new chapter.
Animal Control Officers began dealing with people killing vandal dogs who show up at their property or were interested in their livestock. These dealings were dealt with first by our Animal Control Officers, then in court. With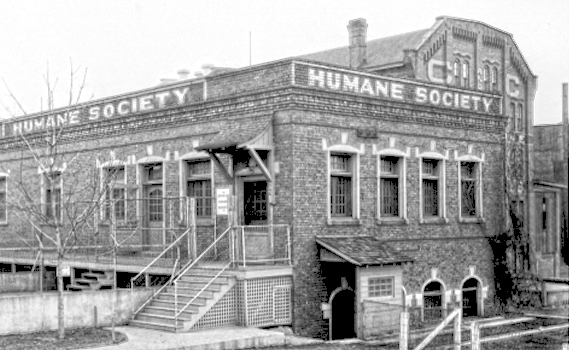 this new focus on our furry friends in the media, stories began emerging of not only dog vandals, but dog heroes too. A brave deed in Montana made its way here through the news. A dog stood guard in the freezing snow over a herder who couldn't bare the elements. The herder had died, but the dog kept guard over his human through thick and thin. Stories like these began changing society's views on animals and their place in our world.
In 1901, Spokane Humane Society was well on their way to creating a more humane area for our animals. Instead of killing 212 unclaimed dogs, they were able to adopt out 134 and only killed 78 remaining. In 1908, the Humane Society began taking on the care and humane treatment of work horses and a new building to include these horses was put in place. During this year, 14 calls were received about children, 783 calls concerned about dogs and horses, 415 for cows and 75 cats. 22 arrests were made, 17 convictions and 120 reprimands.
In just 25 years, the Spokane Humane Society had already created a great impact within our community. John A. Finch died in 1915 and left a legacy of love for the animals behind him. Horses were now used to be rode for pleasure and automobiles made their way onto our streets. Now make way for Norman Finch, another huge impactor of the Spokane Humane Society. Learn more about how Norman Finch led us from Depression-era dog pound to our modern incarnation in time for Expo '74.
Learn more about Norman Finch & how his love for the animals helped evolve the Spokane Humane Society today.