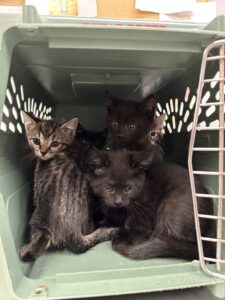 On Thursday, September 14th, 2023, eight kittens were brought into the SHS clinic. A community member found them and their mama as strays in Spokane. Kitten intakes, like this one, are always celebrated at SHS; when strays are saved and brought to the SHS clinic for spay and neutering, we are decreasing the population of unvaccinated strays. Stray cats spread diseases like rabies, ringworm, toxoplasmosis, and feline leukemia. Plus, these kittens will be adopted by amazing families who will love and support them for the rest of their lives! These kittens looked happy and healthy; they were a little nervous, but they weren't feral, so our clinic team were able to examine them right away.
One at a time, each kitten was examined starting with gender and weight. This information is recorded for the kittens' veterinarians, as well as for their website bio. Next, Foster Coordinator, Amanda, stepped in for a quick photo which will be posted on our website when the kittens are ready for adoption. She also named each kitten; this group of kittens were named after Shrek characters: Shrek, Fiona, Donkey, Lord Farquaad, Puss in Boots, Dragon, Pinocchio, and Gingerbread Man. Amanda played music from the Shrek soundtrack to lighten the mood in the exam room.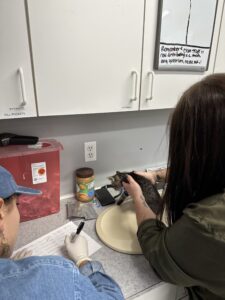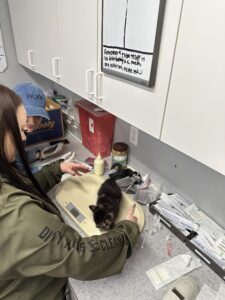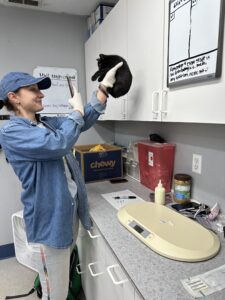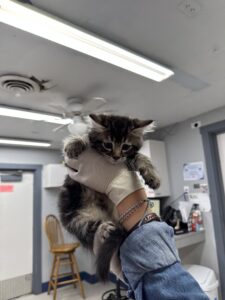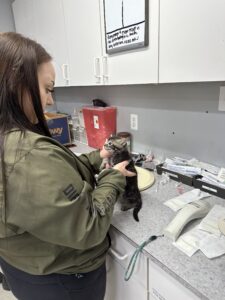 Next, it's time for each kitten to get their microchip, dewormer, and necessary vaccinations. These kittens passed their exam check-up and were ready for a temporary foster home. Kittens like these go straight into foster care for a few reasons: they were found as strays and need extra human interaction to be ready for adoption, they aren't spayed or neutered yet, and as a preliminary precaution we keep them separated from other animals to make sure they don't pass along any diseases or sickness.
In the next few days, these kittens foster families will bring them into the SHS clinic for their spay/neuter appointments. After their recovery time, these kittens will be posted on our website for adoption, unless they require more medical attention which means they are sent back into foster care until they are feeling better.
The intake to foster process is so fun because these kittens are passed along through each SHS department starting at the clinic, then through foster, and ending at the shelter when they are ready for adoption. If you are interested in adopting one of these adorable Shrek character kittens, check our website spokanehumanesociety.org for updates.