by: Jenifer Priest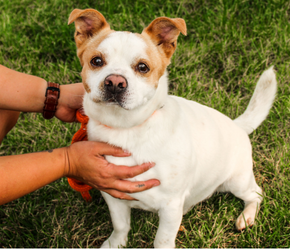 Have you been thinking about adding a furry, four-legged family member to your household? Now would be a great time to do so because 83 animals are in our care that need fur-ever homes! Plus, with so many animals, there's a great chance that you'll find a pet who is just right for you.
We have dogs and cats of course, some spotted animals, some black ones, some white ones; animals with blue eyes, brown eyes, or one of both and even a one-eyed cat, they range in age from 3 months to 12 years.
Available adoptable animals can always be found on our website, so check our website first to see who is in our care. Remember, animals may be at the shelter at 6607 N. Havana, or  PetSmart on the Newport Highway, or Bark, A Rescue Pub located at 905 N. Washington.
Buddy, a 5-year-old chihuahua