Wow – just over 200 animals found new homes in the last 4 weeks through SHS, including 71 kittens! Altogether, 98 felines were adopted, and 105 canines found new homes.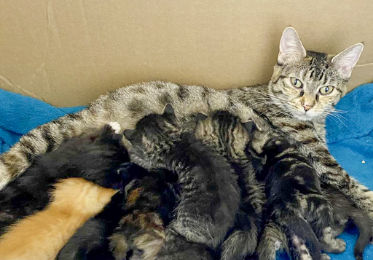 Mamma Cat was one notable adoption. She came to us in January and shortly after that we determined she was pregnant. She delivered 10 healthy kittens and after nurturing them in foster care, she and 9 of the kittens came back to the shelter. (Sadly, one kitten did not make it.)
Mamma Cat and all of her babies were spayed and neutered and all are in new homes!
Winslow first came through our doors in 2017 but came back in February of this year after he began showing negative behavior with the children in the house. Winslow is described as a goofy dog who plays and sleeps equally hard! Winslow also had a case of "happy tail" – he wagged his tail so much that he injured it! Winslow finally got his second freedom ride on July 9.