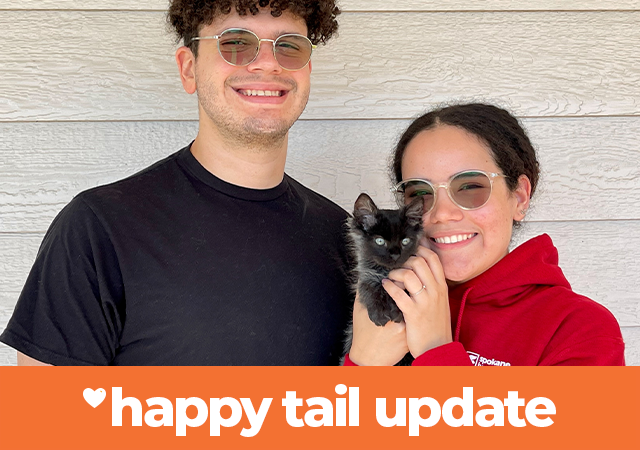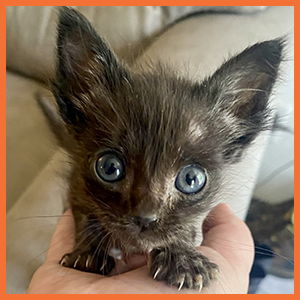 Trash Can Ralph – a curious and spunky black baby kitten – fought for dear life over the passed two months and has come out victorious! Once, an emaciated, dehydrated and starving 3-month-old kitten who could fit in the palm of your hand is now a healthy, happy and very loved family member.
You may remember Trash Can Ralph from our last 
newsletter
. We are thrilled to share that he has the opportunity to live life and is predicted to have a long and happy life ahead of him! Thanks to the good samaritan who found him and our amazing clinic team, Trash Can Ralph knows what it is now to be loved and cared for. He has as bright future ahead of him. And for his name? He got it in remembrance of where he was found, mercilessly abandoned in a hot trash can on a summer day.
We knew this sweet boy would leave a paw print on all of our hearts when he rumbled in by motorcycle perched in the pocket of his rescuer. Peeking out was a kitten the size of a baby mouse! Upon handing him over, our clinic team began the work of putting him back together again. Unraveling the pain, fear and desperation, they replaced it with love, care and shelter from all the things that could hurt a thing so tiny and fragile…
Maria, our wonderful clinic team member, brought him
 home to tube feed him nightly and watched over him 24/7 right from
 her desk. With constant support from all of our clinic team and the care of our veterinarians, Trash Can Ralph has found his home with our very own SHS Veterinarian Assistant, Gabriela Medina, who wants to give this sweet boy a loving forever! Plus, he has a whole "pride" to love with two kitty siblings and two forever humans.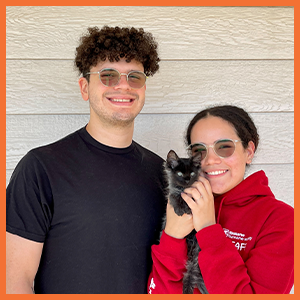 Thanks to support from people like you, we had the resources to give this sweet and innocent boy the tools he neede
STAR (Special Treatment And Recovery) allows us to provide life-saving medical care to abused, neglected, injured and sick shelter animals. Donate today.