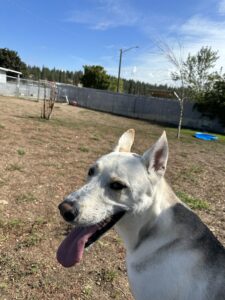 Loki Larry first came to SHS in 2021 and has been in and out of the shelter ever since. One situation in particular, Loki Larry was adopted for one day before being returned to the shelter.
Before adopting, reflect on the 3-3-3 rule:
In the first 3 days, the dog is still feeling anxious, stressed, and overwhelmed. The dog will test boundaries like jumping and climbing on furniture or the dog might hide in their crate due to fear while in the new environment.
In the first 3 weeks, the dog will start to settle in and learn they can trust their new family. They will figure out their new environment and understand the rules.
In the first 3 months, the dog will finally feel completely comfortable in their new home and with their new family. This is when trust is formed, and you can truly set a routine.
Every animal is different so this 3-3-3 rules might take a shorter or longer amount of time. Loki Larry is looking for a family that will believe in him and stick by his side even when times are tough.
What SHS staff members and past owners say about Loki Larry:
He is so cute when playing in the pool! He loves the water, and it keeps him busy.
Loki Larry likes to jump and nip when excited, he will benefit from training as soon as possible.
This silly boy will shred blankets and soft toys… only hard toys for him.
"He listened to 'sit' and 'stay' very well and let me harness wrap the leash as well." – Dog Walker at SHS
A past owner stated Loki was too much to handle. If Loki doesn't get his energy out every day, he will become anxious.
This dog loves riding in the car, going on runs or long hikes, and playing outside.
The type of home Loki Larry is looking for:
"Loki Larry needs a strong, confident, dog savvy leader to show Loki the rules and boundaries of being respectful with his people and visitors." – Kennel Tech at SHS
Adult-only home preferred since Loki Larry is a play biter and likes to jump up on people when excited. He is a big strong boy who doesn't realize his strength.
Loki Larry will need an experienced dog owner that understands firm corrections and training.
Since Loki Larry has spent so much time living in the shelter, he has a lot of pent-up energy and frustration. Once he has settled down, in a loving home, and learned to trust his new family, he will thrive!
Learn more about Loki Larry HERE.