The last four weeks have been especially busy with adoptions – 208 in all! 104 Cats, 103 dogs, and 1 guinea pig all found new homes.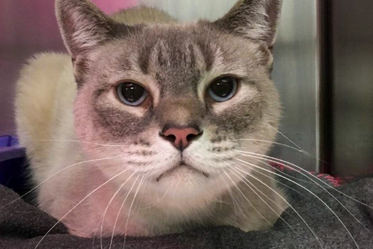 Nearly all of the cats that were adopted were identified as domestic short/medium/long hair. But there was one Siamese that was placed – a senior cat named Tookie. Tookie spend almost 4 weeks in the shelter after her owner passed away. We are so grateful to the adopter for taking home this beautiful senior!
21 Terriers of some kind (American Pit Bull, Bull, Jack Russel, or Yorkshire) were adopted. 14 retriever mixes, 11 Huskie mixes and 9 shepherd mixes also found homes. One St. Bernard landed a new home, as well as 1 Rottweiler, 1 Great Pyrenees and 1 Karelian Bear Dog!
One unusual statistic from this last month is that we placed 5 Mastiffs mixes, including Spartan who weighed over 100 pounds! Those larger dogs can be hard to place.
It really doesn't matter what breed or mix an animal is made up of because Adopted is our favorite breed!
Thanks to all the adopters for giving these 208 cats and dogs new homes! Thank you also to our Adoption Partners, PetSmart and Bark, A Rescue Pub. 574 animals have been adopted from PetSmart so far this year and over 607 animals have been adopted from Bark since our partnership began!