Cannon is a STAR
His name is Cannon. And while most cannons launch projectiles meant to destroy things, this Cannon launches a bundle of joy and happiness when he is around people!
You've heard us mention our STAR program in this newsletter previously. Special Treatment And Recovery was created for dogs like Cannon. After arriving at our shelter, our staff noticed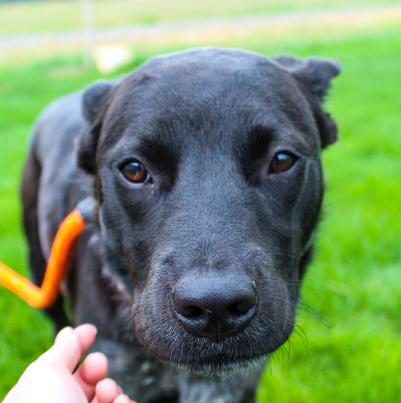 that Cannon favored his right front paw and became lame after walks. Our veterinarians prescribed crate rest for him and when he didn't improve, Cannon's leg was x-rayed.
The x-ray revealed a bone spur and we reached out to the Veterinary Teaching Hospital at Washington State University and due to a cancellation, they were able to see Cannon right away. CTs on both elbows revealed elbow dysplasia and a coronoid fracture. Orthoscopic surgery removed the bone spur and repaired the fracture.
Cannon is now on kennel rest and receiving pain and anti-inflammatory medicines. He also receives daily physical therapy. This will continue until he is re-evaluated in June.
Cannon is a friendly pooch who loves to give hugs and snuggle. He has excellent leash manners and he's also easy to treat and medicate. As a 1-year-old dog he is just at the beginning of his life but arthritis in his joints will no doubt be a part of his future. He will need to be on prescription joint food and his activity needs to be limited to walks, easy hikes, and swimming. No frisbees, running or agility for Cannon, but that's ok because his favorite things is to just be with his humans.
Can you:
Donate to our STAR fund for the next Cannon that comes into our care
Foster him until he is cleared for adoption – we love having him here at the clinic but know he would enjoy some home life (link to foster email)
The world needs more love Cannons! Thank you to everyone who has helped save him – our kennel staff, our clinic staff, and the veterinary staff at Washington State University.
If you'd like to donate to our STAR program, please click HERE.