by: Jenifer Priest
FurrBall is back! Join us on November 20th at the Davenport Grand Hotel, where we'll have a wonderful Halibut dinner (or a fabulous vegetarian option of Roasted vegetable and polenta with tomato emulsion), a silent auction, the live auction of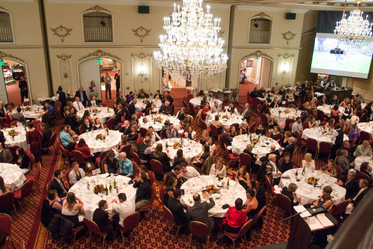 trees and the Parade of Animals.
We're bringing technology to FurrBall this year! You can check-in and check-out on your phone, and also place your silent auction bids on your phone.  You can bid no matter where you are in the room. Mobile bidding also means that you can be notified if you are out-bid on an item, and you can even set a max-bid to automatically bid for you! But don't worry if you don't have a smart phone, we will have concierges at the event to assist with placing bids.
The live auction will feature Elite Auction's Matthew Backs. We are excited for the energy he will bring to the live auction, and we know you will have fun participating and watching the auction as he brings in the bids.
Tickets are $125 per person and for more information about purchasing them, visit our website.