This recent heat wave inspired a lot of good in our community and the animals at the Spokane Humane Society benefitted from some of that good.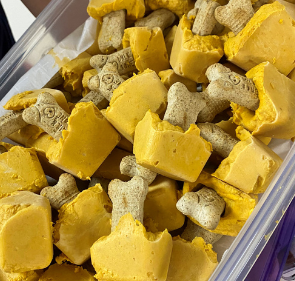 Volunteer Chelsea created some frozen dog treats so that the pups could have a tasty cool-down. Made with peanut butter, pumpkin puree and Greek yogurt then frozen in an ice-cube tray with a dog biscuit (stick) the dogs enjoyed something cool and different.
A rabbit named Atticus landed in our care temporarily when he lacked a safe place to wait out the heat. Arizonian friends of his owners were so touched that we would do this that they sent a $100 donation.
A client of the clinic brought in an assortment of cold coffee drinks and lemonade – this thoughtfulness, brought a smile to staff in the shelter and the clinic.
A power outage, along with the start of wildfire season prompted us to create a list of people who could take animals if we ever needed to evacuate. We now have a list of people who will take animals on short notice – this includes a property owner who volunteered her barns and horse trailers.
90+ temperatures are not healthy for dogs or volunteers and we want to thank those volunteers who came early to walk dogs in the cool of the morning. Claudia has been coming at 7 AM two or three mornings a week to make sure as many dogs as possible get out for fresh air and a walk before it gets too hot.
These hot temperatures are trying for everyone, but the thoughtfulness and kindness of our supporters has made our days easier. We feel the love and send it back to you!