by Ed Boks, Executive Director 
What is the tool of choice when breaking up a serious dog fight? First, let's review the ineffective tools commonly used.
Contrary to popular opinion, pepper spray and Mace are seldom effective. In fact, these agents are known to actually provoke dogs into redirecting their aggression. Because these agents must be accurately directed at close range the person applying the agent is often the target of this redirection – and if the person is affected or overcome by the agent (which depends on which way the wind is blowing) the consequences to the person can be severe.
Tasers are virtually useless against fur-covered animals; and tranquilizer darts must be placed accurately to be effective, which is difficult when a dog is in attack mode; and the tranquilizer takes several minutes to work during which time the animal can do significant damage.
What then is the best way to break up a dog fight without injuring the animals or putting yourself at unnecessary risk?  Consider a fire-extinguisher.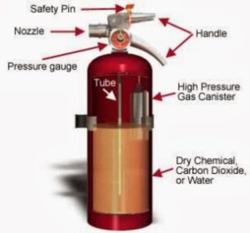 With a fire-extinguisher, an intervener does not have to closely approach the dogs or have an accurate aim to deter an attack. Fire-extinguishers don't quickly run out of "ammunition" or produce an erratic ricochet; and they are non-lethal. If the fire-extinguisher is exhausted while the dog attack continues the empty cylinder can be used as a shield or a bite stick.
Fire-extinguisher contents tend to make animals short of breath without lasting harm; and most dogs retreat from the snake-like hiss of a discharging fire-extinguisher.
Fire-extinguishers can be found in most every kitchen, near every fireplace, and in every car, bus, truck, taxi, and patrol car, and they are prominently located in every public building and place of business.
Should the unfortunate happen and you are bitten it's best to push against the biter instead of pulling away; this forces most dogs to open their mouths, and enables the victim to avoid the ripping injuries that result from pulling away from a dog's serrated teeth. However, this strategy may not be universally applicable to all dog bites.
In fatal and disfiguring attacks, the first bite often disables the victim preventing them from pushing against the bite, or protecting themselves, or doing any of the other things conventionally advised. The only effective defense against this type of an attack is preventing the attack from occurring in the first place.
When attacked by a dog it is important to understand dogs tend to attack whatever part of a person is closest to them, so putting an object, any object, between you and the dog will likely redirect the attack towards the object in your hand and away from you.
It's important to keep your balance. Fending off a dog attack by swinging an object, such as a baseball bat or a golf club, is dangerous; the dog may dodge the blow and take advantage while the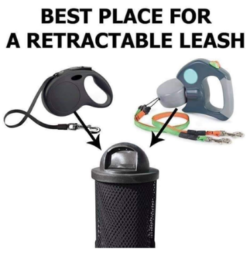 person is off-balance to inflict serious injury. The correct way to use a bat or golf club is as a bite-stick held out to keep the dog at maximum distance from oneself.
Most dog-on-dog and dog-on-person attacks can be prevented by properly training and socializing your pet. It is never too late to invest in your canine companion by teaching him "good citizenship" skills.
Lastly, remember to keep your dog on a leash six feet or less in length in public places. Not only is this the law (yes, retractable dog leashes are illegal in public places), but a short leash gives you better control to either prevent or save your dog from an attack.