Holiday weekends, especially the 4th of July, can be very difficult for animals so pet safety should be a top priority. The loud explosions of fireworks often scare both cats and dogs, so it is important to follow these safety steps before celebrating the holiday.
Leave your pets at home and inside.
A great first step for keeping your pets safe on a holiday weekend is leaving them at home. Fireworks are very stressful for animals and adding the stress of meeting new people and being in a new space can become too much too fast for your furry friends. A great option is leaving them in a space where they feel the most comfortable and can't get injured if they get spooked, for example, a soft crate or a private room with blankets. It is crucial that you bring your animals inside, if they are outside, they might feel vulnerable, alone, and attempt to run away.
Provide a distraction.
Another great option for holiday pet safety is creating a distraction during the fireworks. This might look like giving your pets their favorite treats or providing extra cuddle time during the fireworks. If you aren't home during the fireworks, you could leave a long-
lasting treat to keep them distracted or turn on music or a show to muffle the outside sounds.
Update your ID tags and microchips, just in case.
You can never be too prepared for the worse case scenarios. Before celebrating the holiday, update your ID tags and microchips for each animal in your household. If they get loose and run away, updating this information will be a great way to relocate your pets and bring them home safely.
Another additional option would be investing in a GPS collar. These can be spendy but very helpful when you can see your pet's location in real time on your phone.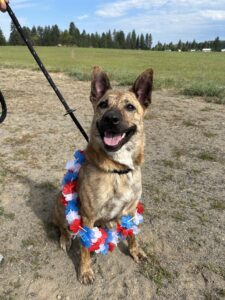 Leaving your pet at home, inside, and giving them a distraction are a few simple steps to help your pets feel safe during the 4th of July festivities. Be prepared by updating their ID tags and microchips just in case!
If any of your furry friends get lost, be sure to inform your neighbors, contact your local animal control agency (SCRAPS if you are in Spokane), and post on local Facebook pages right away.
SCRAPS – SCRAPS – Regional Animal Protection | Spokane County, WA (509) 477-2532