Keeping Pets and People Together
by Ed Boks, Executive Director
As the county continues to suffer the effects of COVID-19, SHS is evolving the way we respond to crisis and offer community support.  Housing insecurity, although not new, has been exacerbated by the pandemic and compounded by the fast-approaching end of the eviction moratorium on June 30th.
The economic hardship faced by so many people will severely impact families who rent their homes and mass evictions may be a looming challenge for all of us.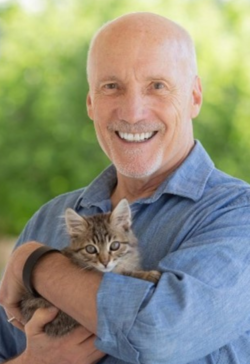 SHS leadership and staff are discussing our capacity to effectively respond.  To be better prepared to respond to the impending "eviction" crisis, SHS is working with the Spokane Limited Income Housing Consortium, the Fair Housing Alliance, and the Landlord Association in the hope of developing a community-wide response.
One of the strategies SHS is working on is to recruit and train an army of volunteers willing to provide temporary shelter to pets losing their homes due to an eviction. Once the pet owner finds a new home, the pet is reunited. If you are interested in being such a Good Samaritan, please contact Axton Riker at axton@spokanehumanesociety.org or fill out a foster application on our website at: https://spokanehumanesociety.org/foster-care/.
COVID-19 has also ravaged the family finances of many pet owners, some of whom may feel compelled to surrender their pet because they cannot afford emergency veterinary care.  SHS is happy to announce that for our community's neediest pet owners (anyone on public assistance), SHS has initiated a low-cost emergency pet care program.  The program is called AlignCare and has been rolled out in partnership with the University of Tennessee.  PetSmart Charities graciously granted the seed funding to start the program, and the Innnovia Foundation also recently provided a grant to AlignCare. And we are grateful to many of you that have already donated to the program too.
If you would like to help SHS keep pets and people together during these trying times, please visit our website to learn how aligncare (aligncarehealth.org)
Together we are making the Spokane/Coeur d'Alene region the safest for pets in the nation.