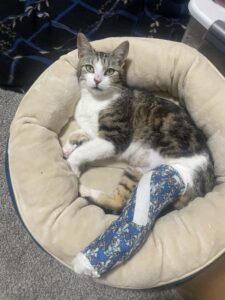 Libby was first transferred to SHS from a rescue in Yakima, WA. The veterinary staff in Yakima suspected Libby had a potential leg fracture. When she arrived in Spokane, SHS clinic staff noticed that her back left hindlimb was atrophied and she was not ambulating on it. After further evaluation and radiographs it was determined that Libby had a hock fracture and 3rd degree sprain resulting in ligament damage.
"Clinic staff placed a bandage with a splint for immobilization of the left leg to see if the scar tissue would provide permanent support of the hock and Libby was moved into foster care. After several weeks, with no progress being made, Libby's doctor (Dr. Megan) recommended amputation of left hindlimb as she had not improved significantly while in our care at SHS." – Foster Care Coordinator, Amanda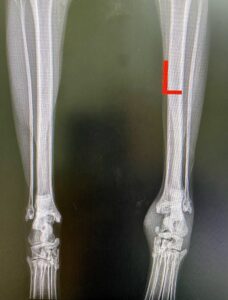 After the amputation, Libby improved quickly. She ran around her foster home, playing with toys, jumping on furniture, and snuggling up with her human friends. Libby became more comfortable and confident!
The foster program is very beneficial for animals like Libby who need space and time to heal in a relaxed environment. It was a happy day, all around the shelter, when Libby was adopted by her foster family.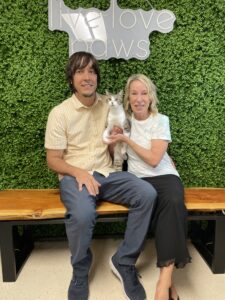 A special thank you to our donors, development department, and clinic staff for the addition of an EKG machine. This machine allows veterinary staff to closely monitor many different aspects of an animal's well-being while under anesthesia, including their heart rate, blood pressure, and oxygen level.