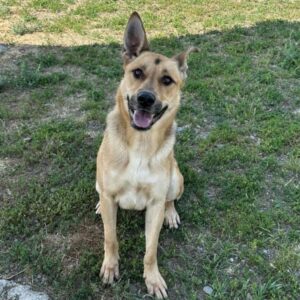 Athena arrived at SHS in September of 2022, now over a year later, she is still looking for her forever home. Athena was transferred from another shelter, so she has been in shelter living for too long! She is a loud and rowdy girl, but she is learning every single day, with consistent training from her dog-walker friends.
WHAT SHS STAFF MEMBERS AND PAST OWNERS SAY ABOUT ATHENA:
Whenever she gets bored in her kennel, she will eat her blankets. – SHS Kennel Technician
She is a huge jumper!

Loves hard plastic toys.
If I didn't have dogs at home, I would adopt Athena… she is great! – SHS Dog Walker
She loves picking up food scrapes but might take it too far by trying to eat your dinner right off the plate.
THE TYPE OF HOME ATHENA IS LOOKING FOR:
Athena will need a home with no cats! She thinks cats are toys and likes to chase them.
A forever family that will continue her training.
Athena would benefit from an owner with a strong, loud, assertive voice to remind her who is in charge.
Athena might not be your easy to adopt dog who settles right into your home within a couple of hours, but with the right person that can train her and stick by her side, Athena will learn to behave in her new home and trust her forever companion.
Read more about Athena HERE.