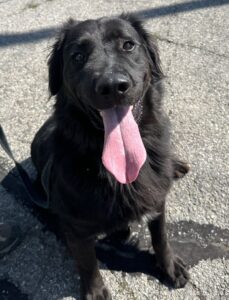 Beethoven arrived at SHS in 2022 and is coming up to 400 days in the shelter. We hope he finds his forever family soon! Beethoven is 4-year-old Flat-Coated Retriever Mix who is always happy. He enjoys playing outside in the sun, rain, or snow, pulling on his leash, and barking at other dogs. Beethoven might not be the best on a leash, but with a big backyard and room to run, he will be very content!
What SHS staff members and past owners say about Beethoven:
He is so cute and so food motivated, you can get him to do anything if you have a treat in your hand!
Beethoven seems to be dog selective; he growls and barks at some which makes it challenging to go on a walk in a public area.
It seems that Beethoven really wants to play with everyone and everything. He might bark, growl, or jump on other animals and people but because he forgets his manners and is trying to make a new friend. He will benefit from consistent training and firm corrections.
This sweetheart loves belly rubs and getting pets!
The type of home Beethoven is looking for:
No cats… even a treat couldn't redirect him.
No small animals including dogs, Beethoven thinks they are a toy to chase around. He isn't aggressive but he won't leave them alone.
Beethoven won't do well living in an apartment, he is high energy and vocal.
Read more about Beethoven HERE.