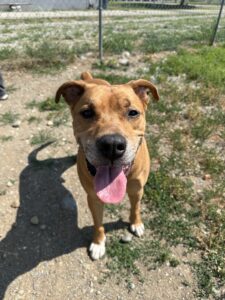 Bodie Boo is a 4-year-old Pit Bull Mix with a spunky attitude. He requires a dog savvy owner who knows dog training skills like consistency and firm communication. Bodie loves playing with other dogs, if they are about his size and like to play rough. He is looking for someone to give him a chance, and to not give up on him; with consistency, Bodie Boo will thrive in his new home.
WHAT SHS STAFF MEMBERS AND PAST OWNERS SAY ABOUT BODIE BOO:
Bodie Boo likes to jump at people's faces sometimes, that is how he introduces himself. He'll give you a little bonk or a little lick to say hi.
He likes to growl and get big to show his dominance, he needs a strict strong correction to remind him who's in charge.
Bodie and Claire love playing together in the yard. Both dogs run around each other play fighting, it is a great way to get Bodie Boo's energy out.
Bodie Boo loves treats!!
"Bodie Boo is a perfectly nice boy, friendly, playful, and always happy to see me."
THE TYPE OF HOME BODIE BOO IS LOOKING FOR:
Bodie Boo would prefer a home without kids, he would do well with a dominant confident owner.
It might take him a little while to feel comfortable in his new house, his new family will need to be patient and understanding.
Read more about Bodie Boo HERE.