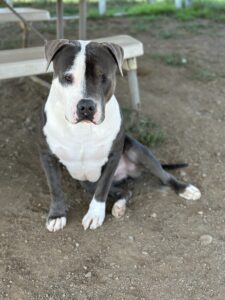 Brody was surrendered to SHS back in 2022 when his humans got divorced. At first, he was nervous at SHS but quickly started showing his more confident, outgoing self.
WHAT SHS STAFF MEMBERS AND PAST OWNERS SAY ABOUT BRODY:
Brody is a little goofy and playful.
He was introduced to a cat here at SHS, but he had no interest!
Brody is on the Salmon Sweet Potato dog food here at SHS.
He has the most adorable walk; he just trots alongside of you and he's great on a leash.
Brody spends most of his outside time sniffing around and laying in the sun. He is pretty easy going.
He LOVES treats!
THE TYPE OF HOME BRODY IS LOOKING FOR:
A loving home who can give Brody all the love and attention he deserves.
Brody will require frequent vet checks for his eye and his overall well-being.
Brody had some past medical issues that required the removal of his left eye, and his right eye is still being monitored by his vet. But only having one eye doesn't stop Brody from being a great well-mannered dog.
Read more about Brody HERE.