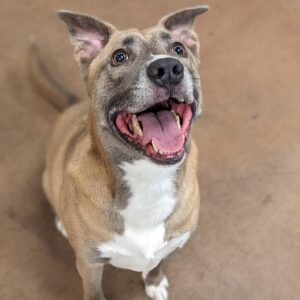 Dexter is a two-year-old Pit Bull Mix who loves to play soccer! He will push the ball around the yard using his nose, paws, body, or butt! He is such a happy dog when he's playing outside; he likes the idea of fetch, but he doesn't really bring the ball back. Dexter might be shy at first, but he warms up quickly if you let him come to you.
WHAT SHS STAFF MEMBERS AND PAST OWNERS SAY ABOUT DEXTER:
He can be a little nervous around new people, but if you play with him and give him treats, he will love you forever!
He could play soccer by himself all day long.
Dexter is so sweet, if you spend some time with him, you will definitely fall in love.
Dexter knows "sit," "down," and "shake."
This pup walks great on a leash.
THE TYPE OF HOME DEXTER IS LOOKING FOR:
Dexter would like a home with no other dogs or small animals.
Dexter would fit right into a calm go-with-the-flow family who is willing to play with him outside.
Read more about Dexter HERE.