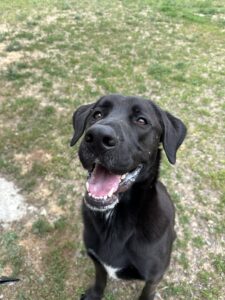 Oakley was first introduced to SHS back in 2021. His first owner failed him; when Oakley arrived at SHS at 9 months old he had no training or socialization. He was lunging at other dogs and barking at people. This young pup was terrified! Right off the bat, Oakley showed signs of discomfort and stress around men, he showed an aggressive attitude in protection of women; we can assume that Oakley went through a traumatic event in his young puppy life which caused this behavior. Now this sweet boy is two years old and still looking for a forever companion. Oakley might be a unique pup who will need continuous training and correction, but he is also a big boy who is just looking for love!
WHAT SHS STAFF MEMBERS AND PAST OWNERS SAY ABOUT OAKLEY:
He needs training, once he knows the rules, he'll do great.
Oakley is a sweetheart; he is good-looking and will steal your heart!
Oakley is waiting for his forever family, once he can finally settle down and fully trust someone, he will break out of his scared shell and thrive… he just needs someone to give him a chance!
Oakley has a good set of training under his belt now, he just needs someone to continue practicing the skills he's learned. – Kennel Tech
He is a quick learner and wants to please everyone. – Shelter Staff
THE TYPE OF HOME OAKLEY IS LOOKING FOR:
If you have never owned a dog before, Oakley isn't the one for you. He needs a dog savvy person who knows how to train by giving strong corrections.
Adult only home is preferred. He is a big boy and might knock over small kids on accident.
Oakley would do best if he is the only pet in the household. He loves the attention all on him!
Oakley is a sweet boy who needs someone that will stick by his side and won't give up on him. He is a loving pup who can't wait to learn from you, go on walks with you, and receive lots of treats.
Learn more about Oakley HERE.