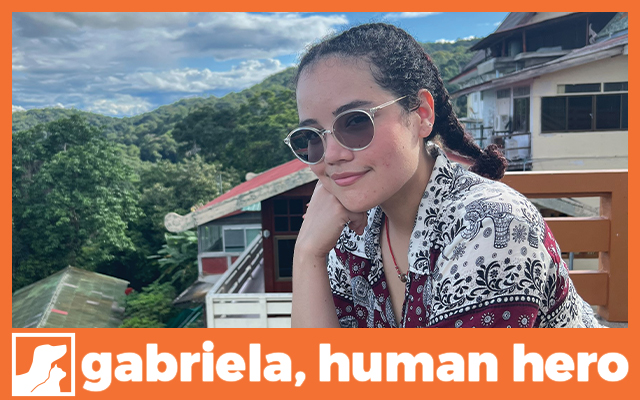 Meet a hooman hero, Gabriela! Gabriela is our SHS Clinic Veterinary Assistant, and she goes above and beyond to help the animals.
Gabriela comes to us all the way from Puerto Rico with her first language being Spanish. As a young girl, seeing the overpopulation and surplus of homeless animals drew her into the industry, but it was her father who taught her while she was still young to always fill her soul with love for animals, especially those in need.
While growing up in Puerto Rico where many homeless and hungry animals wander the streets, Gabriela witnessed so much need and not much help. The only solution Gabriela could see required someone with superhero skills. She didn't quite have those yet, but she took the journey less traveled to equip herself to help furry friends in need wherever she goes.
Spay/neuter isn't an option for many in Puerto Rico, but the need is great. Gabriela began being involved in workshops and gained pre-vet experience through Spayathon for Puerto Rico, volunteer work & shadowing excellent veterinarians. Now, she's come all the way from Puerto Rico to help
companion animals in Spokane and to continue her education through hands on experience. In fact, just this last week Gabriela returned from representing SHS at a 2-week expedition in Thailand! She assisted in spay/neuter surgeries and even learned elephant care for elephants rescued from captivity.
With her, she brought back her love for animals world-wide. Gabriela even found her faith renewed in the
fact that animals who endure incredible hardship at the hands of humans can still find solace in the hands of those who care.
Now, Gabriela will continue her hands-on education here at SHS and help shelter animals with medical needs, like our STAR Animals (Special Treatment And Recovery,) including Simon, Trash Can Ralph, Perry, Gina and many more.
We are grateful for the vibrant personality she brings with her every day and her drive for helping the animals. If you want to join Gabriela and support her mission to promote spay/neuter, you can use code Gabriela10 to purchase a spay/neuter sticker with 10% going to help the animals at Spokane Humane Society.
Thank you for being a part of our team, Gabriela! We love your dedication and hard work. The animals (and us) are so lucky to have you!