How many bits of kibble are there in 15 pallets of pet food? Millions? Billions?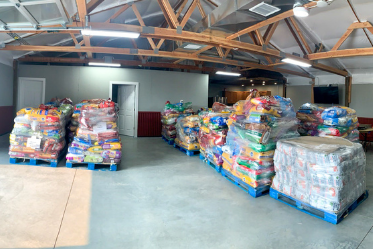 These millions (or billons) bits of kibble will be in homes all over Eastern Washington and North Idaho, thanks to a donation from Walmart of about 600 bags of dog food!
When a bag gets torn, Walmart tapes it up and donates that bag to the Second Harvest Food Bank. They reached out to us to ask if we could get it into the homes of pet owners in need. We gulped and then said Yes! And then we reached out to shelters and rescues in the region to share the bounty.
About 18,000 pounds of donated dog and cat kibble are feeding dogs and cats all around Spokane, Post Falls, Coeur d'Alene and Priest River. While a torn bag of food could more easily have been thrown away, we appreciate the effort that was made to tape, store and transport this food to benefit animals in need.
Thank you Walmart and Second Harvest!