When a partner shelter across the state reached out to say "help!" we fired up the New Hope Express to rescue 28 kittens and 2 adult cats.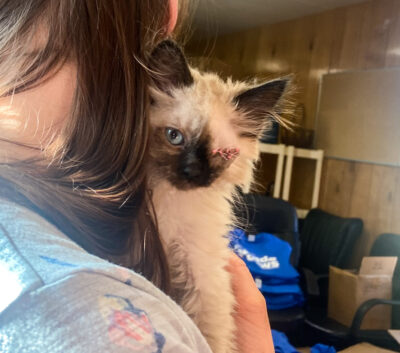 Not only was the shelter up to its whiskers in cats, but they also lost their air conditioning!
Ten of those kittens have severe eye issues. Two of them, Baguette and Muffin, have already had surgery to remove both their eyes. One kitten has had one eye removed and the remaining kittens are in foster care receiving care in the hopes of saving one or both eyes. One foster provider is even giving eye drops to two kittens every hour.
Adira, the blind clinic cat that we have written so much about, has taught us all that life is still full of meaning and wonder, even without sight. That's why we know it is the right decision to save these cats – we know that they will inspire and bring delight to their eventual adoptive families.
Please help us replenish our STAR fund so that we can continue to help those animals who have special needs. They teach us so many things about compassion and overcoming obstacles. You can donate to STAR right now.