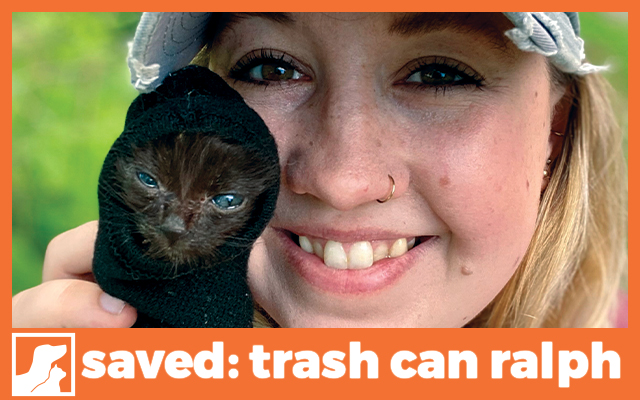 Trash Can Ralph came flying into our facility and soon made a crash landing on our hearts. This sweet kitty arrived at SHS by motorcycle and was on his last leg fighting for his life to survive, at just weeks old.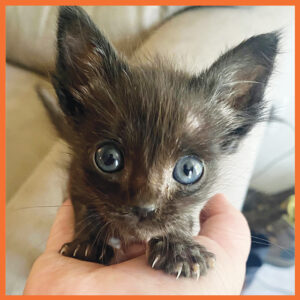 It was quite the morning when a rough and rowdy motorcyclist rumbled into our parking lot before our facility opened. Thankfully Maria, a clinic staff member, noticed the gentleman lingering and looking confused. After he saw Maria approaching him, he turned the engine off and heaved himself off his motorcycle before reaching into his pocket. Out came a kitten – just weeks old! Apparently before boarding his motorcycle, this animal hero heard small meows echoing from his trash can in his driveway. Upon peering into his surprisingly vocal trash can, he found a kitten so small it could fit in the palm of his hand. He furiously tore apart the rest of his trash to check if any others had been abandoned and left to die in there that hot morning, but could only find this sweet boy he had brought to us. Now, Maria has taken this little kitten under her wing and he just may be able to become healthy enough to find a loving home.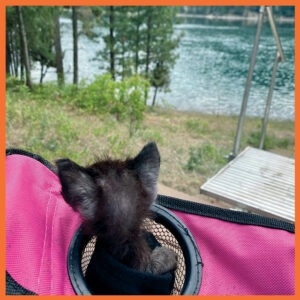 Plus, this will be Maria's 87th SHS foster animal! When Trash Can Ralph found himself in a pickle, he was a lucky boy when Maria locked eyes with him. Not only does she bring him home nightly, she tube fed him & watched over him 24/7. He even joined her on a camping trip to see the big wide world and all its beauty. Even if this sweet boy doesn't make it, at least Maria and our staff gave him the love he deserved before his time is over.
Thankfully with all of Maria's love & support, Trash Can Ralph has been growing big-er and healthier than ever before! Where his fur was lacking, he has some soft new sprouts tufting up behind his ears & on the top of his head. This sweet, innocent boy may just be able to make it and live the life we dream for him.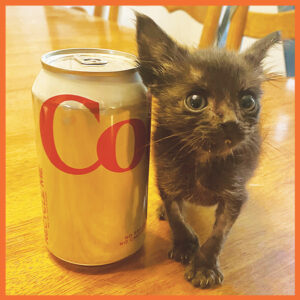 Thank you to the good Samaritan who brought Trash Can Ralph in, our amazing Clinic Team for jumping into action to save his life, and of course thank YOU for being one of our supporters who helps create happy endings like these for our animals. We truly couldn't do what we do without you.
Happy Tails Update 9/8/22 – Trash Can Ralph is happy, healthy & now in a loving
forever home with our amazing Veterinary Assistant, Gabriela! If you want to help pets like Trash Can Ralph, donate to our STAR Program today.