Some of our long-term residents met a special friend on October 8th, it was Country Music star Tyler Rich! He visited our rescue animals at BARK, A Rescue Pub to help promote their adoptions.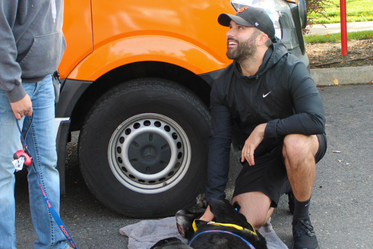 In fact, he does this in every city he visits while on tour. What a great way to help the animals!
It was a tail waggin' time where he not only met Rock Top, Kimber, Ounce & Chester, but all of the adoptable animals at BARK, A Rescue Pub. He even used all of his social media resources to share our available animals including his Instagram page (with 296,000 followers) and his rescue page, Rich Rescues.
Our puppers could tell he was an animal lover right away & felt right at home meeting him. He got all the sweet puppy kisses & they got all the belly lovin' rubs. After he met some of our shelter animals in need of extra exposure, he was able to tour BARK, A Rescue Pub & see what they've been doing to help our shelter animals in such an amazing way. If you want to support animal advocates like him, visit his social media pages at Rich Rescues on Instagram. Thank you, Tyler Rich for making the time to make some tails wag!