Dogs or Cats? "Both – I like them equally." We are thrilled to hear that Dr. Megan, because you will see plenty of both as our new clinic veterinarian. Dr. Megan joins Dr Logan and Dr. Jessie in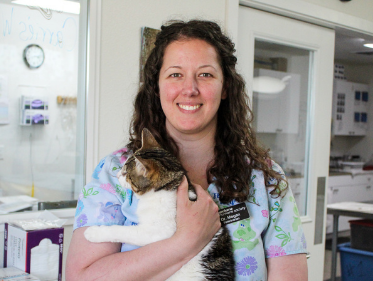 caring for the animals that come through the doors of SHS.
A native of Snohomish, Dr. Megan took an unusual path to becoming a veterinarian. She double majored in Psychology and Piano Performance at Seattle Pacific University. After settling into professional life after graduation, she started volunteering at Pasado's Safe Haven an animal rescue and advocacy organization in Western Washington. She was assigned to work in the spay and neuter clinic and found she loved it.
Getting into vet school meant taking pre-requisites for two years before being admitted to WSU's College of Veterinary Medicine. Her time at WSU was marked by some memorable patients including a 600-pound mini–Scottish Highland bull. A pony that had been horribly mis-treated with electrical shocks was also memorable for its transformation. In just a couple of weeks, this pony went from super shy and mistrusting of humans, to seeking them out. For Dr. Megan, it was a tremendous demonstration of animals' unconditional love.
Shelter medicine was an easy choice for Dr. Megan. She not only enjoys see so many different animals, but she also respects the spay/neuter mission of shelter medicine and its role in rescue and advocacy of animals.
And yes, Dr. Megan does like dogs and cats equally as evidenced by her own furry family which is made up of 3 cats and 2 dogs.
We welcome your passion and enthusiasm for shelter animals and are so glad you are part of our team Dr. Megan!