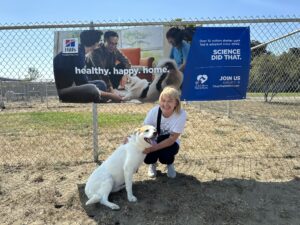 August is Clear the Shelters, Adopt and Donate Month. This is an annual, nationwide pet adoption campaign supported by NBC. This year SHS held three $0 adoption fee events for Clear the Shelters. The first event was August 12th at BARK, A Rescue Pub. SHS had one successful dog adoption and four cat adoptions at the event. The second event was August 26th at PetSmart Northpointe. There were four cat and seven dog adoptions during the event. The last event was August 30th at Spokane Humane Society's shelter location. During this event, three cats and five dogs were adopted.
During BARK, A Rescue Pub's event, Pheobe found her forever home! During the latest Bark in the Park event which took place at Avista Stadium with the Spokane Indians hosted by SCRAPS, a community member came to meet Phoebe and instantly fell in love with her. At the Bark in the Park event, this individual filled out adoption paperwork and planned to adopt Phoebe at the Clear the Shelters event the following week. Our staff knew it was a perfect fit and were so excited to see Phoebe head home with her forever companion.
As for cats, Tire, Kim, Roman, and Citrus were adopted during the event as well. It was extra special when Chibs went home since he was one of the abandoned at SHS cats. SHS is so excited to see Chibs find a happy loving home that won't give up on him!
Our PetSmart Northpointe event was busier than we expected! Dogs Duke, Beorn, Luca de la Luna, Taffy-Okie, Nike, Rover Hound, and Bear Bear were all adopted. Cats Jed, Lux, Fawn, and Chibs were adopted.
During the last event at our shelter location, Copper found his forever home! Copper was first introduced to SHS back in 2018 where he was adopted after only 25 days in the shelter. However, his family couldn't keep him due to their living situation, so Copper came back to the shelter earlier this year. After 160 days of shelter living, he headed home with the best family. Along with Copper, Checo, and Braxton were also adopted.
A bonded pair, Lotus and Nitrous, also found their forever home. This was an exciting adoption as they were just put up for adoption a few days before the event. They were only onsite at SHS for a total of 44 days before finding their forever home. A couple cats, including Nacho, Ladder, and Wanda were adopted during the event.
Clear the Shelters, Adopt and Donate Month was a success at Spokane Humane Society, and we are so excited to see all of these happy adoptions! We want to thank our amazing community who came together to support our shelter animals and give them a second chance.
Did you miss one of the events? Don't worry, we still have so many adoptable animals at all three of our shelter locations.
Overall, we want to say a big thank you to VCA Animal Hospitals who matched donations up to $5,000 throughout the month of August. Thank you VCA for your dedicated support and generosity!