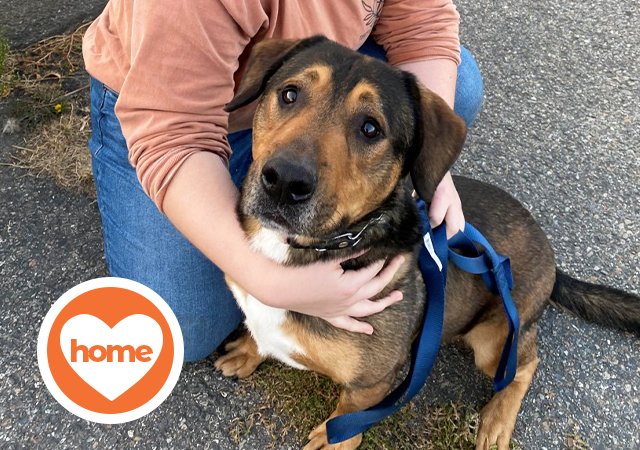 Lucky arrived at the Spokane Humane Society with his mom, Sky, when he was 2-years-old on March 8, 2022.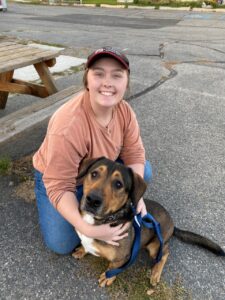 They were an emergency surrender. Their owner no longer had a place to live and did not want that life for their pets, so it was time for Lucky and Sky to find a new forever. As the economy has been hard on all of us, it's been hard on our furry friends too. Sky & Lucky tried at a forever home together, but "luck" was not on their side, this time. They were returned because they weren't the right fit and it was time to try again. As their time lengthened at the shelter, they began adjusting to shelter life and gaining confidence, so we felt comfortable allowing them to try and find a home separately to see if that helped their chances. Lucky's mother, Sky, found her home 2-months before Lucky. And she is absolutely adored & treated like a princess in her new home, enjoying daily trail walks and snuggles on the couch. Then, during Subaru Loves Pets Month, Lucky was one of our featured underdogs!
This sweet boy is fun-loving, active and absolutely adores attention. Each day he'd get out of his kennel, he loved to run around the play yards, wiggle-butt his way to his favorite people, sunbathe and just enjoy life. We knew he would make a wonderful companion and didn't understand why he was still waiting for love. In August, Lucky was moved from the public kennels to a private kennel area, he was becoming rowdy, difficult to handle on a leash and was getting worked up around other dogs. So an area with less stimulation was needed for him. He was becoming restless in the shelter and we knew he needed to find a home soon.
When Subaru Loves Pets month arrived, Lucky was one of our featured underdogs. Though he wasn't located in the public kennels, he was top of mind whenever someone who met his requirements walked through our doors. In October, it was a lucky day when his future human walked in. She had a kind face, gentle demeanor and was looking for a forever companion. Plus, she seemed to be a match for Lucky! After meeting him, she visited him multiple times before committing to forever. And he loves her just as much as she loves him! Now, this underdog is living his happily-ever-after. Thank you, Subaru, for helping pets like Lucky find a second chance at love. If you can, please donate to help other pets like Lucky find love this holiday season.