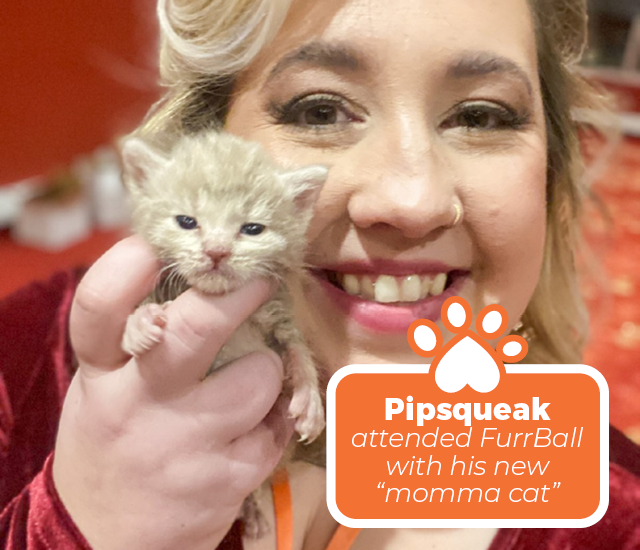 Pipsqueak's life is saved & he celebrates at FurrBall!
Pipsqueak was tinier than the tiniest of kittens! He was born on 10.24.22 as the only living kitten but was found to be premature by about a week. Momma cat didn't quite think he belonged…
Why isn't momma cat feeding little Pipsqueak? His human family became concerned. After a day, they knew Pipsqueak would cross the rainbow bridge soon if he wasn't given the care he so desperately needed. So Pipsqueak and his family ventured to Spokane Humane Society in hopes of saving his life.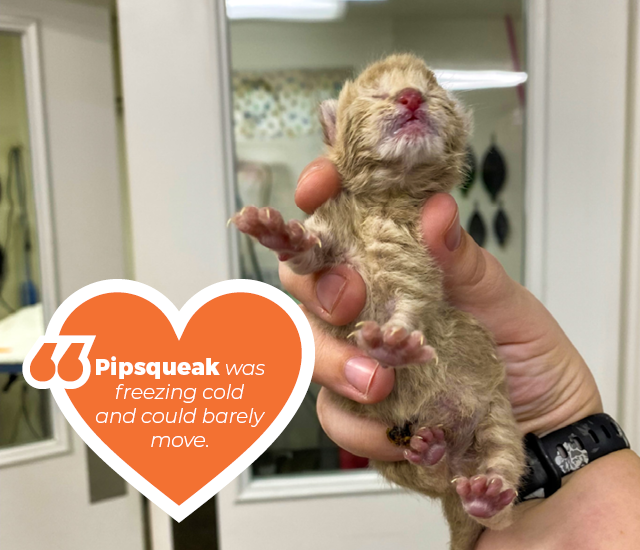 Upon arriving at the facility, Pipsqueak was freezing cold and not moving much. We took an emergency surrender & our clinic team swooped into action. Maria, one of our amazing clinic members began teaching him to nurse. Once warmed up, he latched on letting us know he wants a chance! Looking down at this sweet boy, Maria knew she would do whatever it took.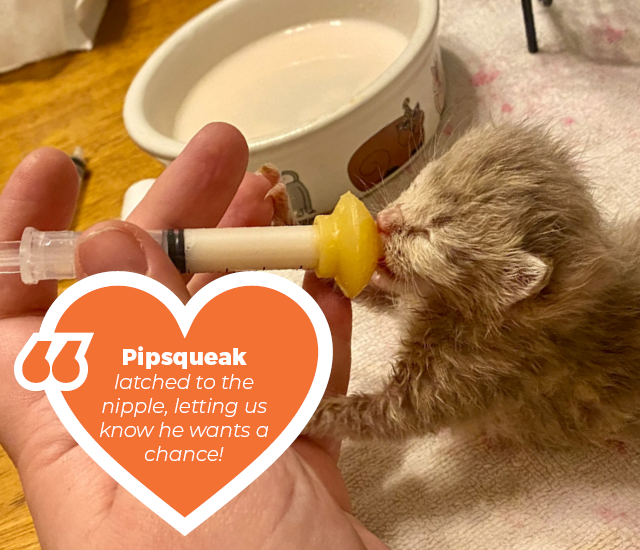 And it took a lot! Day and night for 6 weeks, Pipsqueak needed to be fed every 2 hours and needed help pottying. And when it comes feeding, life or death, Pipsqueak ONLY drinks a specific & apparently very delicious type of Kitten Replacement Milk. He lets us know all about it if it's not quite right. But we think Pipsqueak deserves all the special love and care!
And that's just what Maria gives him! His "miracle nipple" helps him eat well and even feels like the real deal. His special "Heartbeat Bear" makes him feel like he should, warm, loved and resting safe & sound near his momma's heartbeat. And her blind cat, Adira, is showing him just what it is to live the life of a cat! Thanks to your support, Pipsqueak has a whole village to get him back on his feet. And that's just what we hope to do, with the help of our staff, volunteers and supporters like you.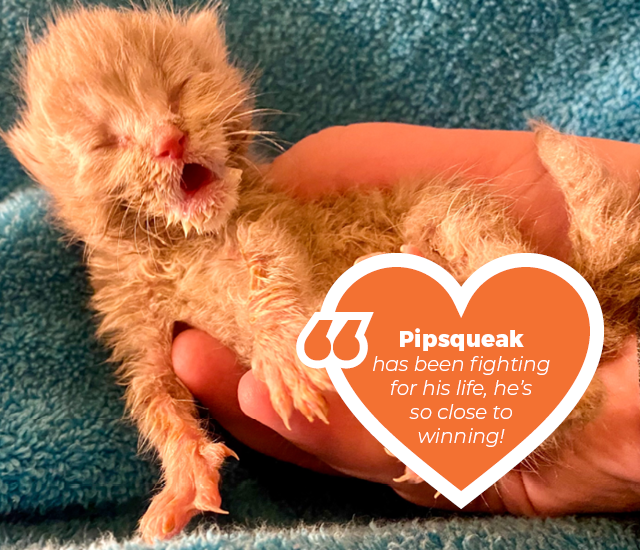 Emergency surrenders do take more resources than we have planned to use but have the ability step in at a moment's notice thanks to you. If you can, can you please donate to our Holiday Drive to help pets get the care they need when they need it most? And if you'd like, set up a recurring payment in honor of sweet Pipsqueak. Thank you for your continued support of the animals.