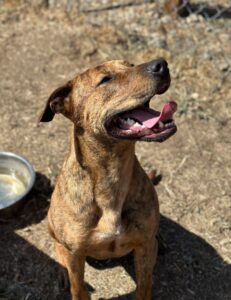 Taffy's one year anniversary at SHS is coming up quick! Found as a stray in 2022, this sweet, scared pup deserves to find his forever family soon. Taffy is often nervous around new people, so it is important to take things slow and let him come to you. Taffy is great at showing his emotions so if he feels uncomfortable, he'll let you know so you can help ease the situation. He is most scared of young kids and teenagers, so Taffy would prefer an adult-only home.
WHAT SHS STAFF MEMBERS AND PAST OWNERS SAY ABOUT TAFFY:
Scared around new people, might growl or show teeth if he feels uncomfortable.
I am so surprised that Taffy hasn't been adopted yet, he's a great dog, super cute, and does well with other dogs.
Barks and lunges at things that pass while out on a walk including bicycles, other animals, and joggers. If they pass him quickly, he might think they are a threat or a toy to chase.
Taffy is super athletic and enjoys getting his energy out by playing with other dogs at SHS. – Dog Walker Staff Member
Taffy can sense nerves, which makes him nervous. When meeting him, be confident and show him who is in charge. – Kennel Tech Staff Member
Taffy has the best smile and LOVES getting good pets/scratches.
THE TYPE OF HOME TAFFY IS LOOKING FOR:
Adult-only home that can demonstrate their dominance through training and communication with Taffy.
An athletic or outdoorsy person that can take Taffy on adventures.
Taffy would love a big backyard to run around in, he wouldn't do well in an apartment.
If you are looking for a running buddy and a cuddle buddy in one… Taffy is the perfect companion for you. He is available at our shelter location located at 6607 N Havana.
Read more about Taffy HERE.